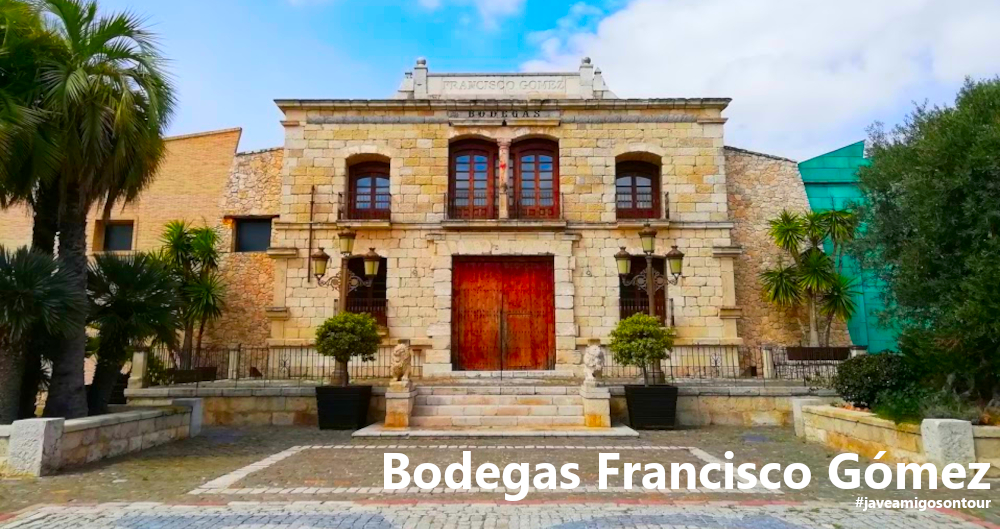 This spectacular winery surrounded by 3,500 hectares of vines has all the hallmarks of an old estate that has passed through the hands of several generations, but we were surprised to discover that it has only been operating just a couple of decades.
Getting There
Bodegas Francisco Gómez is about 1 hour and 45 minutes' drive from Xàbia. The quickest route heads south on the A-7 motorway towards Alicante for some 82 kilometres to junction 704 [A-31 Albacete · Madrid]. Continue for 24 kilometres to junction 191 [Sta. Eulalia], pass over the motorway and at the roundabout, take the first exit to Santa Eulalia and follow the green signs to BODEGAS FRANCISCO GÓMEZ.
Bodegas Francisco Gómez is located some nine kilometres west of Villena and can be combined with a visit to the town (see 'A Weekend in Villena').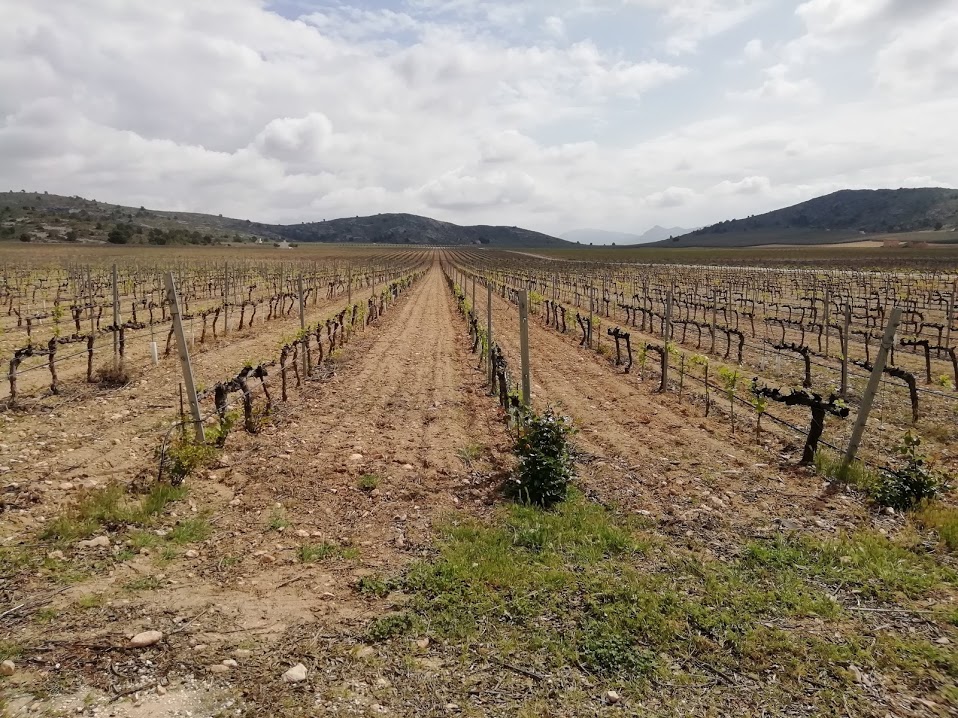 The Bodega
Parking: Although we parked directly outside as it wasn't very busy, the official car-park is just over 200 metres further on from the main estate buildings.
Passing through the gateway, the impressive main building stands out immediately and, at the time of writing, it was being converted into a restaurant. We soon found out that it was transferred brick by brick from Andalusia and sits amidst more modern looking architecture that hides the mechanics of the business: the winemaking.
To the right is the shop and it is here that you need to go for the tour. The shop itself is superbly decorated – take a look at the ceiling – and has tasting tables not only inside but also on the terrace in the open air for those sunnier and calmer days.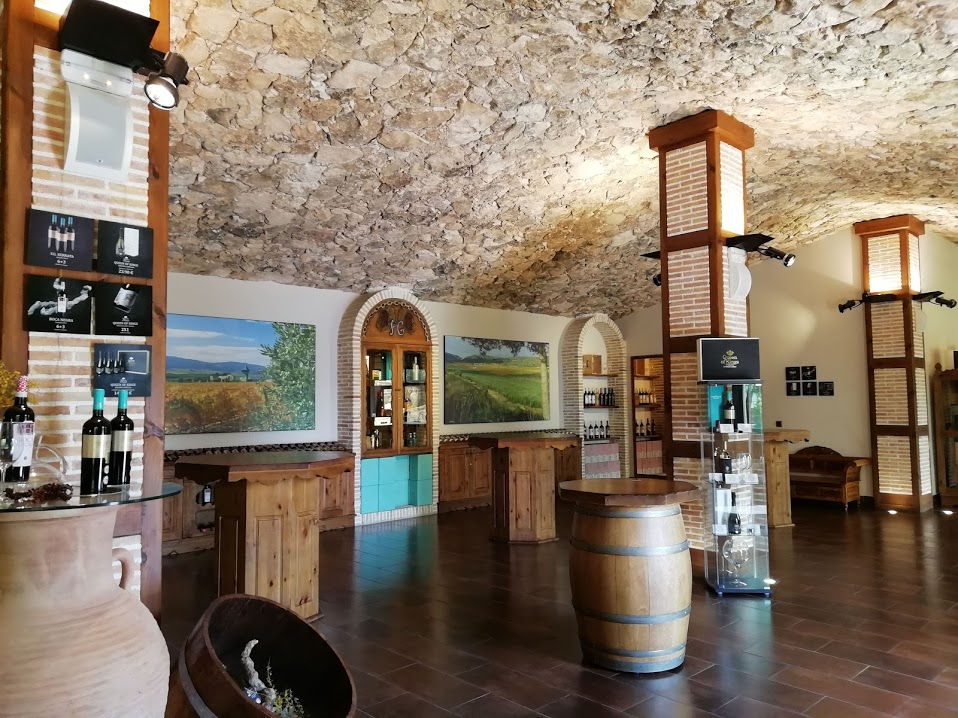 The Tour
Our guide for the tour was Anabel, who had an impressive in-depth knowledge of both the company and the winemaking in general. We began with a surprise, something we didn't expect from a tour of a winery, a look at the estate chapel. We entered through tall solid doors into a room surrounded by huge boulders, even above us, and Anabel explained that it was created by building a mound of sand, placing these huge rocks on top of that mound and then covering it all with concrete. Once set, the sand was removed, leaving an impressive man-made cavern which, although not yet consecrated for religious services, has been able to host civil weddings.
The huge expanse of vines spread out all around the estate; there is a lookout tower to rise above them and see how much ground they cover but this wasn't included in the tour. Anabel explained that everything is done naturally, there are no chemicals used to deter pests but rather decoys to attract them away from the vines, such as rose bushes and scented straps which confuse them. The harvest is carried out at night to keep the cultivated grapes as cool as possible as they are transported to the winery. Anabel added that the independent assessors take into account the water used to irrigate the vines in their assessment of the quality of the grape.
The tour of the mechanics of the winery is interesting to learn about the process from harvest to bottling. But it was once we descended into the depths below the winery that things really got interesting. Rows and rows of wooden barrels sit in a controlled environment, dark and cool, lying patiently for their moment. Anabel introduced us to another special chapel, one for those with extremely deep pockets from which an incredibly special wine is produced, a bottle of which is available to buy at over 320 euros.
Then, beyond a revolving barrel door that wouldn't be out of place in Hogwarts, we explored the "cemetery", a complicated maze of locked cages containing bottles of wine which can be rented for just 3,500 euros, inside of which are 300 bottles of wine stored in a controlled environment. Rented by both wine connoisseurs and corporate accounts, these wines can be tasted within the maze as there are several low wooden tables tucked into niches, or sampled in one of two fantastic underground tasting rooms, perfect for special events or entertaining corporate guests.
And then, to our surprise, we emerged from the underground into the bodega shop, the other side of the estate to where we dropped into the depths. There, ready for our tasting, were bodega glasses (which we could keep) and some wines and olive oils to taste, as well as some bread and a selection of cut meats such as chorizo and serrano.
The cost of the 90 minute tour is currently 20 euros per person and is worth every cent. We visited in midweek in April (and, to be fair, during the Pandemic) and so we had a personal tour with Anabel, which was a little more relaxed. Obviously, weekends are busier and groups tend to be around 15 people, although there is no maximum. English is spoken, although it's best to request so when booking.
And, of course, there is the shop and we spent almost 50 euros on some of the fantastic wines and olive oils which we tasted at the end of the tour.
Bodegas Francisco Gómez is certainly worth a trip and the tour is one of the best winery tours we have experienced.
---
Photo Gallery
---