Art unites in Xàbia for Ukraine and for peace
A charity exhibition will be hoping to raise funds to support the efforts to deal with the humanitarian crisis resulting from the Russian invasion of Ukraine.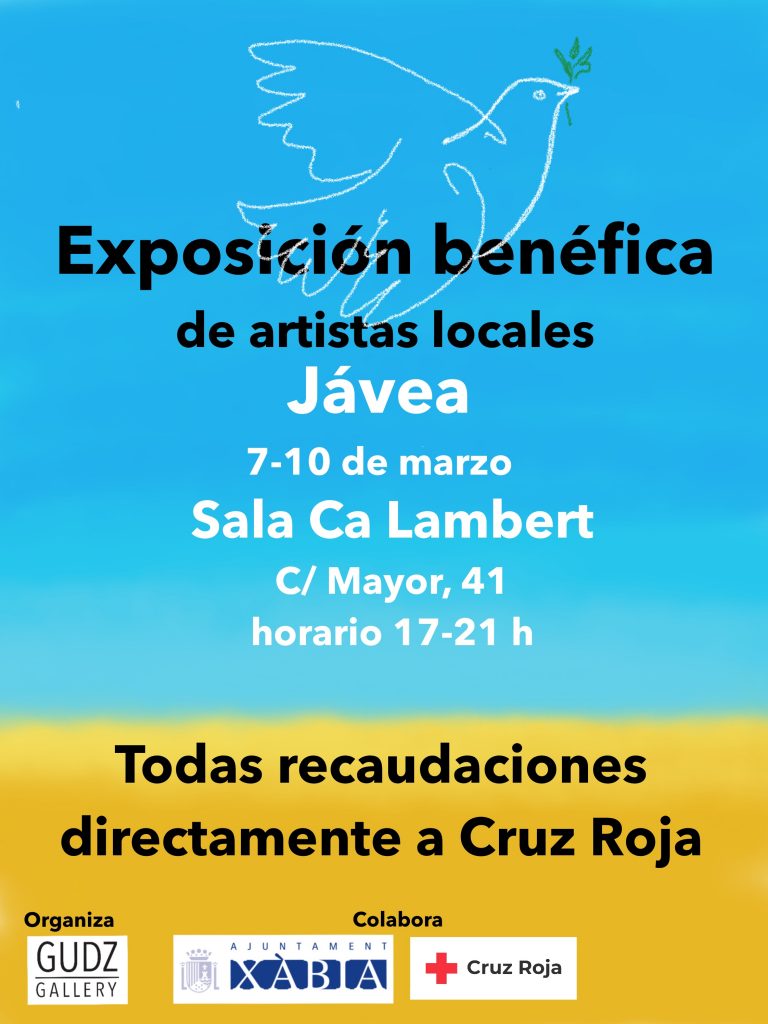 ---
Friday 4th March 2022 – Mike Smith
Translated from a press release from Ajuntament de Xàbia
---
The Russian invasion of Ukraine has triggered a humanitarian crisis in the country and has shaken and filled Europe with pain. There are many groups and associations which are coordinating different initiatives to be able to help the victims of this tragic conflict and provide basic necessities to the thousands of refugees fleeing the violence.
One of these actions, loaded with symbolism, is one organised by Anton Gudzykevych and Mariia Zhurykova, two Ukrainian artists who have lived in Xàbia since 2019, and who, through the Gudzgallery Art Gallery, have contacted other artists based in the town to organise a charity exhibition in record time to help their country. And all the work that will be exhibited will be for sale, with the proceeds donated to the response programmes that the Cruz Roja have deployed to the affected region.
Xàbia Council has also collaborated by offering them a municipal space – the ground floor of the Centre de Arts Lambert (formerly the Casa de Tena) in Carrer Major (see map below).
The exhibition will be open from Monday 7th March until Thursday 10th March, 5.00pm to 9.00pm, and will display works from Anton Gudzykevych and Mariia Zhurykova, Juan Caravaca, Tomás Sivera Vallés, Gabriel López, Creus , Jaume Monfort and Fuensanta Niñorola; more artists are being added all the time in the artistic crusade for peace (those artists who want to be involved can contact the organisers at artgudz@gmail.com. The organsers hope that the people of Xàbia will respond, come down and view the works, and collaborate financially to help Ukraine.
---