After 20 years, work finally begins to remove tower from Calle Atenas
After receiving no response from the property developer, the town hall is using the guarantee to fund the project and improve traffic circulation along the road.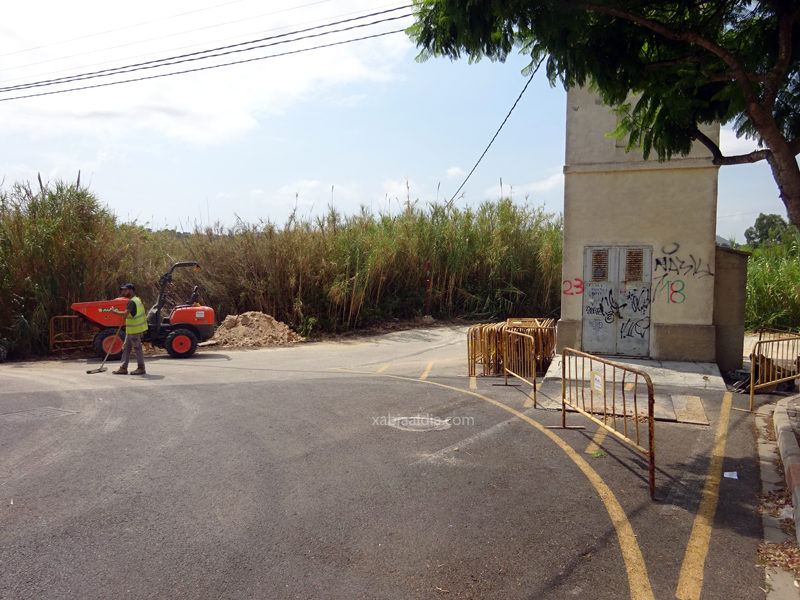 Thursday 18th August 2022 · Mike Smith
Source: XAD (Carlos López) / Ajuntament de Xàbia
After some twenty years, the power company Iberdrola has finally begun work to remove the electrical tower that is located at the junction of Calle Atenas and Calle Larissa, a structure that has stood in the middle of the road which links the Arenal to Cala Blanca, running parallel with Avenida Ultramar and has been a main obstacle to re-developing it.
Residents in the area confirmed that workers have been inspecting the tower, ready for its demolition, and that barriers have been installed to mark off the intended work area. In addition, a trench has been dug into the ground on the side of the tower that borders the Saladar. During the operation, traffic will be diverted through alternative streets. The work is being carried out by Iberdrola and will cost some 65.346 euros to complete.
It has been a complicated process that was reactivated in 2020 when a property developer who built a block of 30 apartments, common areas and parking on a plot located between Calle Larissa, Calle Thessaloniki and Calle Atenas was informed of the requirement to complete the urbanisation work that was pending, which included the removal of the transformer tower. When it received no response from the company, the town hall opted for subsidiary execution, using the guarantee that it originally deposited in 1998 to fund the project.
Pepa Gisbert, the councillor responsible for Town Planning, explained that the tower will be moved to a nearby space owned by the town hall and the existing medium voltage power line buried underground. Once complete, a project will be raised to resurface the road.
---

---