Young sailors participate in the opening competitions of the Club Náutico de Jávea Sailing Week
The Sailing Week continues throughout this week, culminating in the prestigious Sir Thomas Liption trophy at the weekend.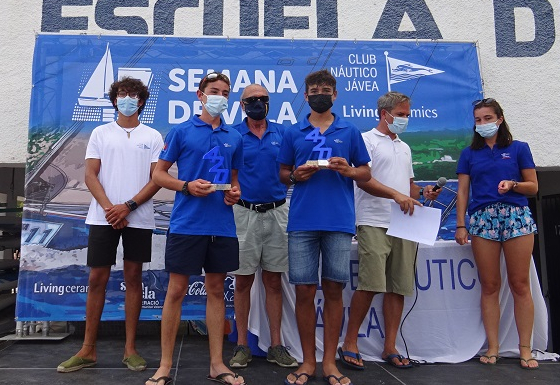 Tuesday 17th August 2021 – XÀBIA AL DÍA with Mike Smith
---
A total of 115 young sailors from Alicante, Altea, Torrevija, Oliva and Valencia as well as Xàbia participated in the Troféo Rodolfo Tomás and Troféo Vela Ligera organised by Club Náutico de Jávea as part of the 47th edition of its Sailing Week, the nautical-social event organised by the yacht club, with the assistance of staff from Real Club Náutico de Dénia, and which is sponsored by Living Ceramics.
On Sunday, the prize-giving for the two competitions took place, attended by Oscar Ferrer, the great-grandson of Rodolfo Tomás, whose name has been given to the competition for Optimist sailors, as well as the commodore of the yacht club, Alejandro Liniers.
In category B, the winner was Charlie Crosbie, second was Pelayo Poveda, and third was Joan marcel Roselló from CN Altea. In the category A, the winner was Fernando Puig, with Juan Francisco Chumilla from RCN Torrevieja finishing runner-up, and Raúl Martínez in third. In addition, Pelayo Poveda and Begoña Pérez-Manglano received a medal for being the newest of all participants.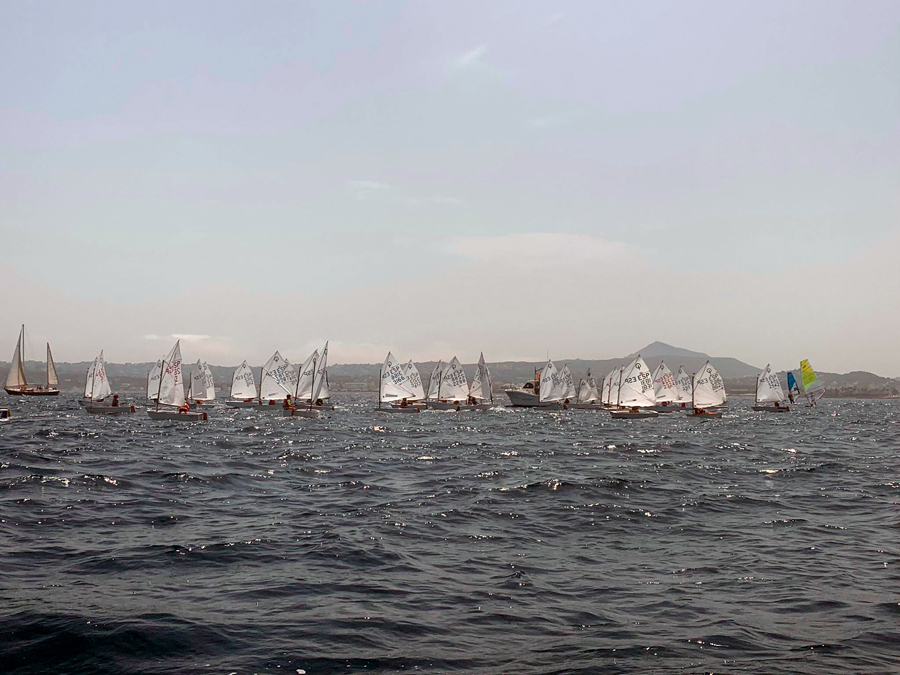 Meanwhile, in the sailing trophy that includes 420 classes, Windsurfing and Open Foil has had a total of 65 participants.
The list of winners is as follows:
Bic Techno U17
Julia Martínez
Bic Techno U15
1) Pablo Momparler
2) Manuel Montanchez Reig (RCN Valencia)
3) Noor Saidi
Open Foil
1) Octavio Ramón
2) Alex Ortega
3) Guillermo Spi (CN Costa Blanca Alicante)
Windsurf Open
1) Rafael Ros (EV Sea Surf Patrol)
2) Carlos Reyes (EV Sea Surf Patrol)
3) Marc Rene (RCR Alicante)
420
1) Ángel Poveda and Joel Ferrer
2) Carmen García and Vicente García (CN Altea)
3) Arantza Reig and Lucy Crosbie
The awards ceremony was held at the jetty of the Club Náutico Jávea, complying with all safety measures and with all attendees using a mask. In addition, this year the awards have been prepared by the local company 3DXàbia.
The Sailing Week of the Jávea Nautical Club continues this Monday with the Trofeo 3 Cabos for motor boats, the 17th and 18th with the regional Optimist B Championship for teams and the 19th, 20th and 21st with the Troféo Sir Thomas Lipton.
---

---