Xàbia schoolchildren will fill square with music and song next Sunday
The Mediterrània, Trenc d'Alba and Graüll schools participate together with the Musical Art Centre in this educational innovation project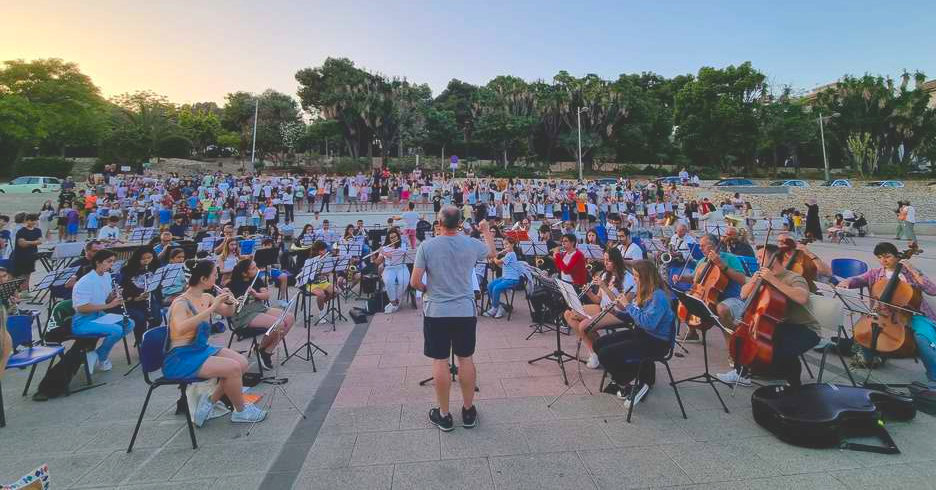 Next Sunday, June 5, more than 250 schoolchildren from Xàbia will participate in the show "L'Escola Canta", an educational innovation project that promotes teamwork and the development of skills and multilingualism through music.
There are three schools in Xàbia (CEIP Mediterrània, CEIP Graüll and CEIP Trenc d'Alba) which have joined the initiative launched by the Ministry of Education and which is being held for the first time in the municipality. The band and youth band of Centro Artístico Musical de Xàbia have also been mobilized and they will provide live instrumental music to the show "El cor de la terra", a song, with music by the composer Pablo Anglés and lyrics by the director of CEFIRE, Ximo Montañés, which reflects on the climate emergency.
The CEIP Mediterrània music teacher, Joan Buigues, explains that there are a total of six songs of different musical styles (waltz, pop-rock, ska and 'soul') and a dramatization that encourages us to think about the climatic situation that our planet is suffering while, with some optimism, tries to raise awareness about the positive impact of changing habits and attitudes. The themes have been worked on for months by the 5th and 6th grade classes with their music teachers and later rehearsed with the band and the rest of the schools. Last week the boys and girls took part in a general rehearsal with emotion.
The actual show will be on this Sunday 5th June at 8.00pm in the Plaza de la Constitución, and is free to attend. The initiative has the collaboration of both the Departments of Education and Culture of Xàbia, both through funding and at the infrastructure level. The heads of both departments, Montse Villaverde and Quico Moragues, have congratulated the schools for joining such an enriching project that allows schoolchildren to awaken their creativity and artistic interest, as well as the excitement that boys and girls have acting on a great stage in front of their families, especially after the last couple of years.
The objectives of 'L'escola Canta' are to make the Valencian musical tradition known, to improve the linguistic competence of Valencian and to promote a positive sensitivity and coexistence between different cultures, through the formation of choirs. In addition to Xàbia, it will also be held in other towns in the Marina Alta such as Calp or Dénia. In total, about 6,300 male and female students from 118 schools in the three provinces awill be participating.
It will be the third edition of this project, which premiered in 2018 in Castelló de la Plana -precursor of the initiative- and has been suspended for two years due to the pandemic.
---

---