Xàbia presents itself as all-year round destination at FITUR Madrid
The mayor and councillors for Tourism and Culture travelled to the Spanish capital to promote the town as 365 days a year tourist destination.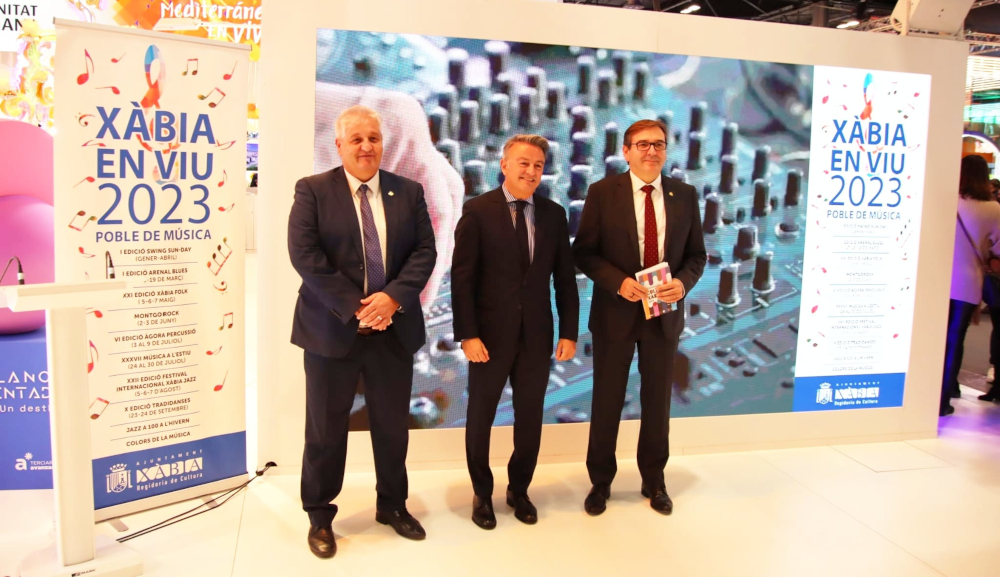 Wednesday 18th January 2023
Mike Smith
For another year, Xàbia is present at the most important trade fair for the tourism sector in Spain. The 2023 edition of FITUR, held at IFEMA Madrid, is the first appointment of the year for the world's tourism professionals, a unique forum for promoting brands and presenting new products.
Integrated into the Costa Blanca stand, the municipality has a counter with all the current promotional material, both for natural enclaves and proposals for active and cultural tourism.
This year Xàbia presents the brand "Xàbia en Viu", which brings together all the musical festivals that are held in the town (jazz, folk, blues, classical, swing, traditional, percussion and rock) as well as the cultural and leisure programming that introduces Xàbia as an enjoyable destination 365 days a year.
Related Link: Xàbia reveals strong cultural programme for first quarter of 2023
Under this premise, mayor José Chulvi and the councilors for Tourism and Culture, Toni Miragall and Quico Moragues, participated in the promotional forum "Tourism Planning and New Projects" organized by the Costa Blanca Tourism Board.
Miragall explained that Xàbia has been planning its policies for out-of-season proposals as an objective for some time, from the #Xàbia365 brand to campaigns such as Sol de Invierno and Sueño con Xàbia, campaigns which emphasize that the town is much more than a sun and beach destination.
Related Link: What's On in Jávea – Cultural Agenda
The councillor detailed that these policies that have been developed over the years have been bearing fruit and beginning "to put an end to the great imbalance that we had between the summer and the rest of the year" as many economic sectors such as tourist rentals and restaurants that all work on the weekends and throughout the year have already confirmed.
He added: "We have always fought so that our majority visitor profile – those with second residences – come not only in summer, but also at other times of the year or even change their stay to other quieter seasons in which they can discover our essence as a Mediterranean town".
Related Link: Xàbia in Fiesta – The 2023 Calendar
Xàbia has some undoubted natural attractions: 20 kilometres of coastline, with a growing nautical offer and active sports, forest areas such as the such as Parque Natural del Montgó and the Parque Forestal de la Granadella with countless routes, architectural heritage, an important gastronomical offer and the modern and competitive local trade as well as a climate that allows you to enjoy the outdoors practically all year round.
The councillor reponsible for Culture, Quico Moragues, explained that: "as a council we are focusing on complementing these attractions available 365 days a year with a powerful cultural and leisure agenda. Throughout the whole year there is not a weekend without culture. Theatre, music, literature and continuous exhibitions in the three municipal halls combine emerging artists with top-level proposals such as those promoted in the last two years dedicated to Sorolla or Balenciaga".
Mayor José Chulvi has also valued the intense annual festive calendar, which reflects the tradition and joyful character of Xàbia, and the one that goes hand in hand with sport. "We have great natural and climatic potential for practicing sports in winter, from mountain biking and road cycling to mountain athletics and water sports (rowing, paddle surfing or sailing) that is accompanied by an important calendar of sports competitions, some of them, such as the Granadella Trail, a benchmark and example of how sustainability policies are compatible with profitability.
Finally, the mayor spoke about the "Beachworking" project to welcome, train and connect people who choose Xàbia as a place to work remotely "and at the same time live in a relaxed way and in contact with nature".
"In short, we are here to make it clear that Xàbia has a lot to offer at any time of the year and that, whatever season you choose, you always have something to do or discover" he concluded.
---
---