Wine Digital 2021 reveals how a Xàbia store has managed to sell worldwide
Alfonso Pinel of La Casa del Vino will talk about his experiences in setting up and running an online store which allows him to sell globally.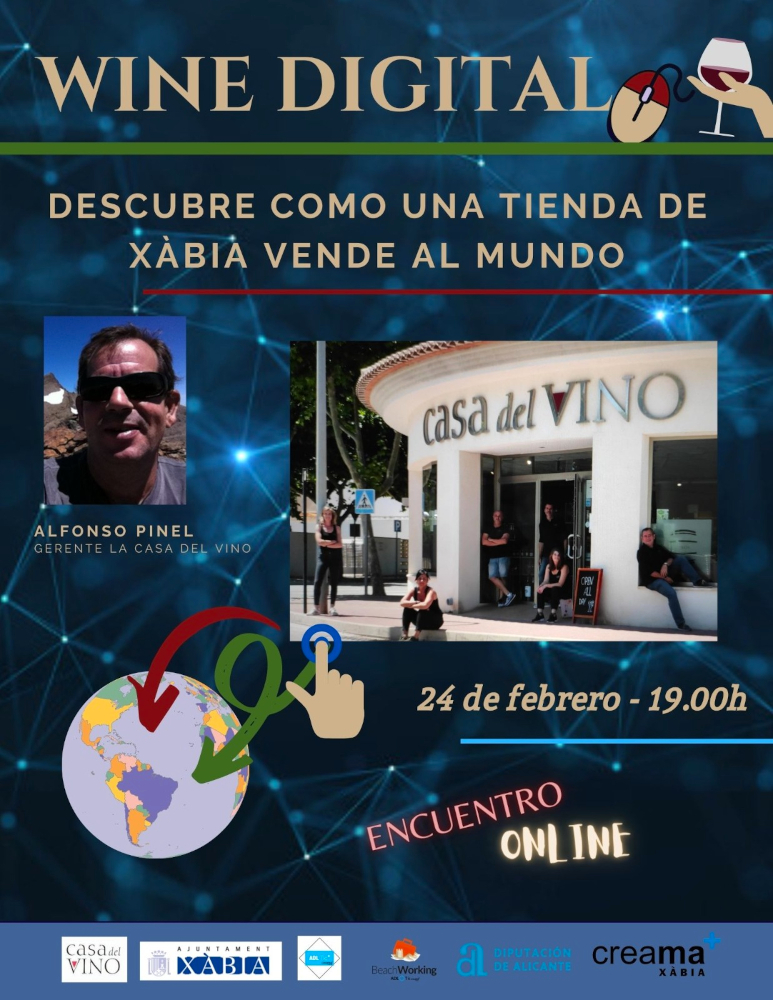 Friday 19th February 2021 | MIKE SMITH
How does one reinvent themselves during times of pandemic? How has a Xàbia store adapted to be able to sell across the world? What can we learn from its experiences?
These are just some of the questions that will be addressed at the WINE DIGITAL 2021 workshop which has been organised by CREAMA Xàbia and features Alfonso Pinel, manager at Casa del Vino and a renowned businessman in this sector in Xàbia who, thanks to his online store, now sells across the world.
These online workshops, promoted Raúl Escrivà (Technological ADL), aim to share experiences so that those interested can learn from them. In this case, La Casa del Vino has opened a new online store and Alfonso will explain how he did it and provide tips as well as share his successes and mistakes that can be taken as an example of setting up such a facility online.
Wine Digital is part of the BEACHWORKING initiative that has been running in recent years as proof that wine and new technologies can go hand in hand and that many businesses have opted to digitize and transform their passion into businesses.
Those wanting to attend the workshop should pre-register using the following link:
In addition, next Friday, there will be the second part of the CAFÉ CON EL ADL TECNOLÓGICO workshop in which business woman Dayana Santacreu will explain the day-to-day experiences of being a digital entrepreneur and offer tips to those who want to be prepared for the future. In addition, she will provide an update on the tools she uses in her different activities in order to plan and manage her projects.
All videos of the different interviews can be seen on the CREAMA Xàbia Facebook page:
The BEACHWORKING New Technologies events are organised to continue to create the ideal conditions to attract digital talent as well as entrepreneurs and the self-employed who can develop their professional work from Xàbia. For this reason, it is important to have a community that feeds on conferences, courses and events to promote technological activities which can be related to local companies. On this occasion, a debate is proposed to learn about other experiences that may be useful for people with ideas and projects underway.
---
Information Source
Press Release – Ajuntament de Xàbia
---