Valencian president advocates opening bridges across Mediterranean to improve economy and employment
He stressed the importance of improving the dialogue between the countries of the Two Shores of the Mediterranean to promote regional stability and equal opportunities.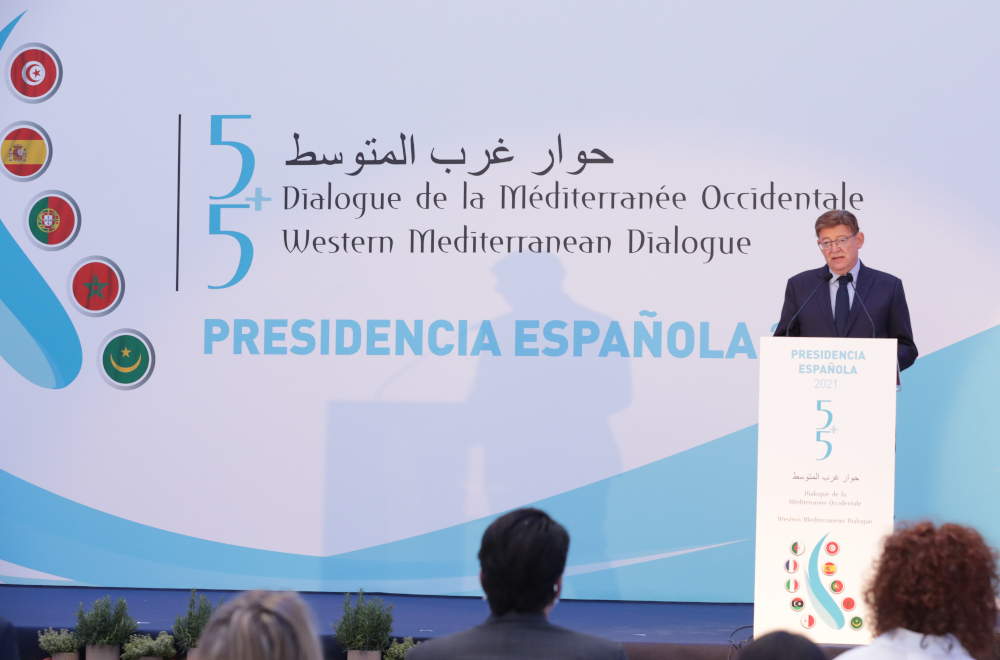 Thursday 7th October 2021 – PRESS RELEASE with Mike Smith
---
The president of the Generalitat Valenciana, Ximo Puig, has called for the "opening of bridges of solidarity, humanity, and collaboration" between western Mediterranean countries to promote economic improvement and employment as well as an inclusive social system.
He made the statement during the opening of the Western Mediterranean 5+5 Forum in Alicante, known as the 'Summit of the Two Shores' because it brings together five countries from the southern shore of the Mediterranean (Algeria, Libya, Mauritania, Morocco and Tunisia) and five countries from the northern shore (France, Italy, Malta, Portugal, Spain). The Forum also has the support of the European Union and Germany.
The president emphasized the need to involve civil society and connect cities and regions so that they promote "an inclusive, shared and sustainable economic and social system" and insisted that the proximity between the two shores of the Mediterranean "forces us to establish more intense dialogue".
Along the same lines, the president stressed that the citizens of the Comunidad Valenciana have always considered the Mediterranean "with the advantages … not only in social and economic terms but also with the obligations that it entails". For this reason, he insisted that it was necessary "to work for regional stability and for equal opportunities" since it is "a matter of interest and a moral, ethical and social obligation".
During his speech, Puig also stressed that North Africa is a strategic region for the Comunidad Valenciana, since "more than 1,500 Valencian companies regularly export to the other shore of the Mediterranean". He also highlighted the "intense human relations" that the region has always maintained and alluded to the reception in the Valencian territory of a good part of the citizens of the southern shore who reside in Spain.
At the same time, the president stressed the importance of improving the quality of employment, vocational training, corporate social responsibility and the situation of young people and women in the 5+5 countries because "work is, without doubt, the basis of prosperity, and prosperity in the source of social stability".
He said that society faces both old and new situation that don't understand borders, clearly alluding to the COVID-19 pandemic, the climate emergency, and equality standards, adding that there are common challenges which must be faced together, because the Mediterranean "cannot be a place where Europe is shipwrecked but the place where the best aspect of Europe is reborn".
---