Valencian government to contract study into Gandía-Dénia tram link
Xàbia mayor happy with the announcement but advises that the town will require a shuttle service to the station where this tram arrives.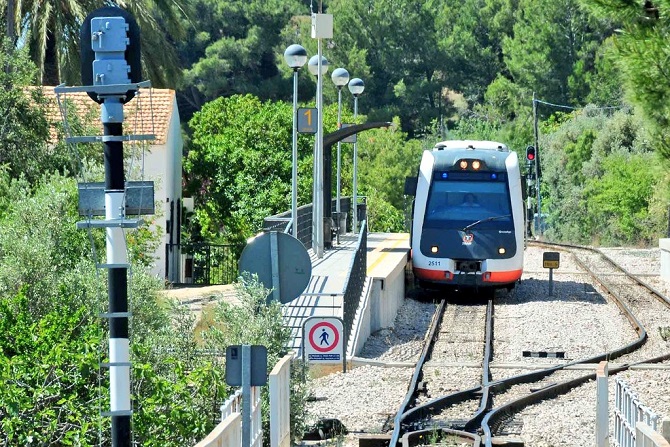 Wednesday 28th September 2022 · Mike Smith
Source: Carlos López (XAD)
Ximo Puig, president of the Generalitat Valenciana, announced that the regional government is to contract an information study in November which will look at the possibility of connecting Gandía and Dénia via a tram link as a transport infrastructure solution until the real railway connection through the Cercanías network becomes a reality.
The president explained that the Generalitat plans to invest some 200 million euros into this project, although he didn't offer any further information, such as where the proposed stations, how long the journey will be and, perhaps more importantly, when it will become a reality.
Dénia mayor Vicent Grimalt described the announcement as "very good news" as it endorses what regional government representatives had already suggested during a recent visit to the Marina Alta, insisting that it is "not a pipe dream" and separated it from the "wishful thinking" that others sell, referring to the intentions of the Alicante Provincial Council to carry out a similar study.
Grimalt explained that after the train link was "taken away from us" in 1975, the Marina Alta has been calling for a connection to La Safor and, by extension, to the city of Valencia for some years, something that will become a reality "in the medium term".
He added that the Generalitat Valenciana is "fulfilling" everything that it promises to the Marina Alta and referred to the re-opening of Line 9 of the Tram d'Alacant, which had been closed for six years, and will re-open in its entirety between Dénia and Benidorm in early January 2023.
Xàbia mayor José Chulvi, who was present for the announcement in the chamber of Les Corts, called the announcement as "positive because its strengthens what was already announced" back in May. He added that "it is clear that the construction of a transport infrastructure such as the TRAM is a more feasible and easier route to execute and it could be the beginning of the end of the railway isolation that the inhabitants of the Marina Alta suffer".
But he has also added that Xàbia will demand "good shuttle connections" for this service and that the Marina Alta "does not give up" the Tren de la Costa, a project that he acknowledges is a "much more complex one to execute for various reasons but that is an undeniable issue for the entire Marina Alta region".
Related Links
---

---