Valencia highlights importance of ventilation and masks, in open and closed spaces, to avoid contagion
An awareness campaign has been launched through informative posters to download and hang in establishments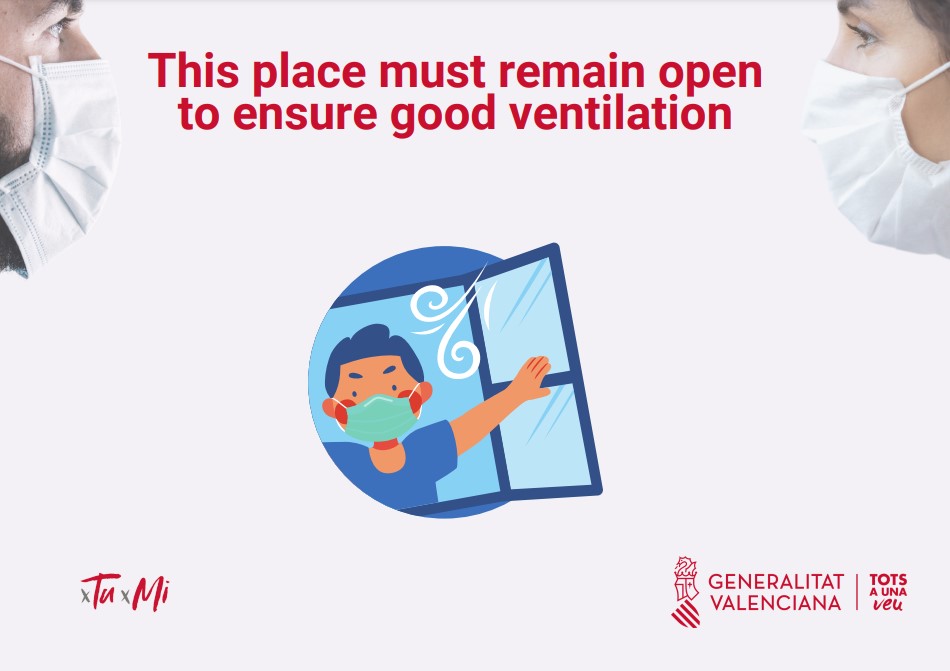 Friday 9th July 2021 – PRESS RELEASE with Mike Smith
---
The use of a face mask, social distancing and proper ventilation in closed spaces are the three fundamental elements to avoid the transmission of COVID-19 infections and reduce hospital admissions.
Given the increase in cases of coronavirus in the Comunidad Valenciana, the regional government has launched an awareness campaign with the objective of curbing infections and preventing the virus from spreading to people who have not yet completed their vaccination and to other more vulnerable groups, such as the immunodeficient and transplant patients.
It is a graphic campaign which, through information posters, will recommend that it is recommended to continue wearing a face mask, not only in indoor spaces and public establishments, but also outdoors, especially when the minimum interpersonal distance of 1.5 metres cannot be guaranteed.
Continuous Ventilation
The ventilation of interior spaces is also key to containing the spread of the virus. In poorly ventilated environments, the aerosols of an infected person can be distributed throughout the space with the risk of other people being infected by inhaling them. For this reason, it is necessary to ventilate continuously, renewing the indoor air with outdoor air.
The Generalitat Valenciana has collaborated with CSIC-IDAEA and Mesura to produce an indoor ventilation guide aimed at shops, hotels, cinemas, theatres, museums, and other places of public use. The guide offers all the recommendations for maintaining proper ventilation and can be downloaded here.
Other downloadable information
The Infocoronavirus website also has a series of information posters with advice and recommendations against COVID-19. These have been deisgned to put at the entrance of shops, hotels, cinemas, theatres, museums and other places of public use to remind citizens of the need to maintain the preventative measures.
Several of these posters are available in different languages: Spanish, Valencian, English, French, German, Italian and Russian.
---