Valencia commissions four mass vaccination centres
This week it is planned to administer more than 185,000 doses, the vast majority being first doses to the 70 to 79 age group.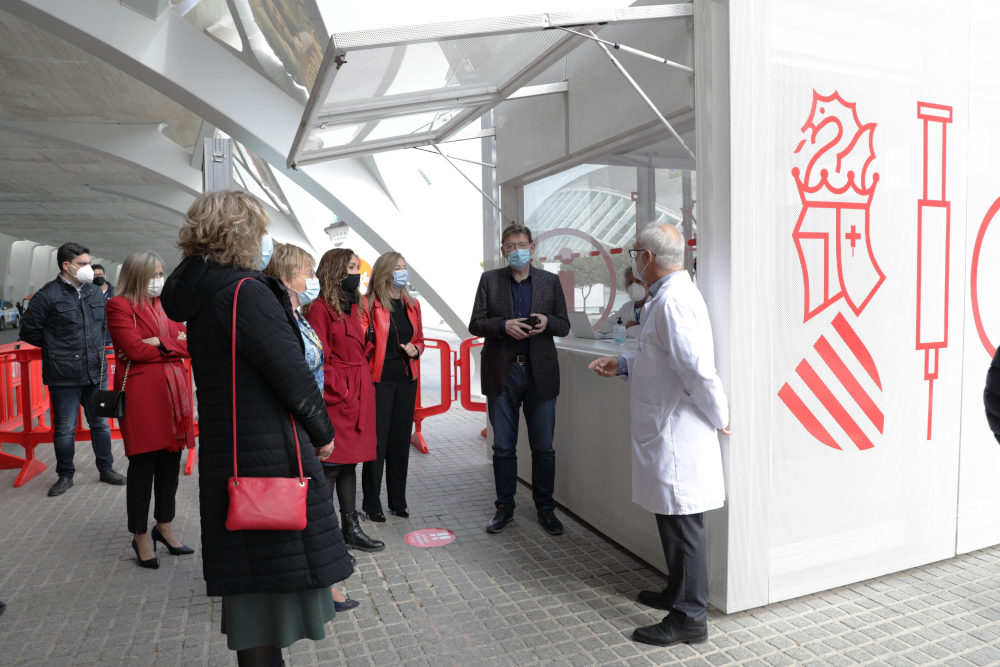 Monday 19th April 2021 | PRESS RELEASE; translation MIKE SMITH
The president of the Generalitat Valenciana, Ximo Puig, announced that a new stage of the vaccination campaign in the Comunidad Valenciana will begin today Monday 19th April with the commissioning for four major vaccination centres in Valencia, Castelló de la La Plana, Alicante, and Elx.
In addition to these major hubs, a further 18 locations will be enabled to administer the coronavirus vaccine, in addition to 48 specific points throughout the region which will provide immunization centres closer to the entire population. These latter location correspond to the 48 basic health zones with their corresponding health centres and to which are added dependent auxiliary offices aimed at avoiding unnecessary travel.
Of all these locations, 22 will be manned by more than 1,000 health professionals who will be able to administer more than 4,000 doses per hour, a structure that will allow around half a million doses to be administered a week.
The president stressed that the 70 vaccination points, plus the auxiliary locations dependent on the basic health zones in the region, have been organised so that there is "more than enough" infrastructure to adminster the vaccine doses that are scheduled to arrive. However, he added that the plan allows an increase to 161 locations "if there is finally an increase in the distribution of vaccines by the pharmaceutical companies".
Ana Barceló, the regional minister for health, added that it is vitally important that citizens respect the vaccination schedule to avoid congestion, to attend only at the assigned time and not to arrive early which slows down the administration.
Vaccination Card
The president also announced that a leaflet with a vaccination card on which will be noted the type of vaccine received as well as the dates and number of doses, will be distributed from today Monday 19th. This document will serve as proof of vaccination as well as provide advice, such as maintaining precautionary methods against COVID-19 after receiving the vaccine.
However, this card is purely for information purposes and should not be confused with the vaccination passport that the European Union is proposing.
Twice as many vaccines given in three weeks
The president also highlighted that the number of vaccines administered across the Comunidad Valenciana has doubled in three weeks, from 640,000 doses to 1.2 million doses, adding that "we would like to go faster, but the pace depends on the delivery of the vaccines".
In addition, Puig said that this week it is planned to administer more than 185,000 doses, of which the majority (68,000) will be first doses for the 70 to 79 age range, a group of which 55,000 will also received second doses. Finally, he explained that 16,000 vaccines will be given as second doses to people over 80 and those with special needs, whilst 40,000 doses will be administered to the 60-65 age group.
---

---