VALENCIA ANNOUNCES ADDITIONAL MEASURES TO COMBAT THE VIRUS
President Ximo Puig tells the Valencian people that a new effort is required because there is no alternative other than a return to the total restrictions that nobody wants.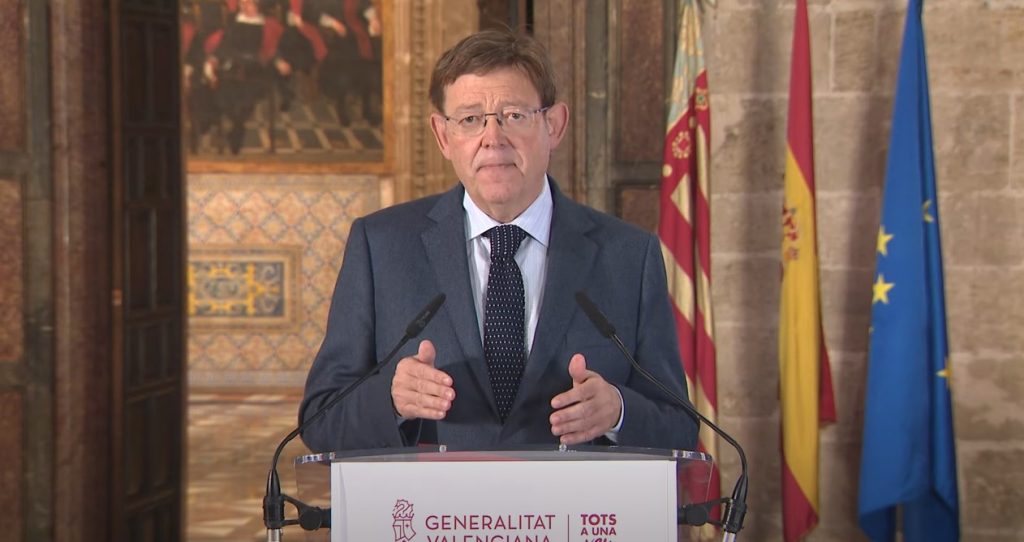 From 1.00am tonight, the Comunidad Valenciana will be subject to additional restrictive measures to combat the accelerating spread of the coronavirus through the region which will remain in place until at least December 9th. These include a night-time curfew and restriction on the sale of alcohol.
President of the Generalitat Valenciana, Ximo Puig announced the new measures this afternoon, saying that it was time to make an extra effort on behalf of everyone in the Comunidad Valenciana so that we can reach Christmas in the best condition as possible – social, family and commercial – so as not to "strangle the economy and daily life with measures that nobody wants".
The measures:
Travel and presence on the public highway and in public spaces throughout the Comunidad Valenciana will be prohibited between midnight and 6.00am. During this time slot, only those people who are going to and from work or have to travel due to to force majeure such as a medical emergency or the care of a dependent person will be able to be on the streets.

The maximum number of family members or social gathering in both public and private spaces is limited to six people, except for those who live together. In addition, it is recommended that social interaction activities be carried out in open and well-ventilated spaces, that any family or social activity which cannot be considered essential be postponed, and that the population limits their social activity as much as possible.

Gardens and outdoor recreation zones (including beaches) can be open only from 8.00am until 10.00pm.

Bars and restaurants must close at midnight and cannot take orders after 11.00pm. Consumption at the bar is not permitted and customers must be seated at tables, both indoors and outside on the terrace. In all cases, a maximum of six people is allowed on a table or groups of tables. A face mask must be worn at all times except when eating or drinking.

The sale of alcohol is prohibited between 10.00pm and 8.00am the following day in all retail establishments, regardless of licence, except in the hotel and restaurant establishments governed by the measures outlined above. In addition, it is illegal to drink alcohol in the streets (except on the terraces of bars and restaurants) at any time of the day.
These measures will come into effect at 01:00 on Sunday 25th October and will remain in place until 23:59 on Wednesday 9th December.
The president explained that whilst the incidence of the virus in the Comunidad Valenciana is lower than in all the peninsular territories in Spain, new cases are evolving with enormous speed. The latest available figures detected 1,690 new positive cases, the highest daily increase in the region since the crisis began.
Over the past three months, there have been more than 20,000 fines issued for non-compliance with the existing measures put in place to fight the spread of the infection. And more than 90% of new cases have derived from social gatherings and parties held in private houses, two out of every three outbreaks having a social origin with a high incidence of unregulated nightlife.
Whilst he understood that socialising is part of understanding life, Puig warned that such gatherings cannot continue – and that cannot be tolerated, adding that the irresponsibility of the few is undoing all the enormous effort that the vast majority of the population has done to try and contain the virus.
He said that these extra restrictions are necessary because there are no more moderate measures to be considered. And that they will come into effect tonight because "we cannot wait any longer". Because wasting time means "losing lives, losing jobs and losing well-being".
He concluded by calling on all the people of the Comunidad Valenciana to make an extra effort on behalf of everyone, to be responsible as well as be supportive of those who are suffering from the continuing extraordinary situation. Prevention, responsibility and unity.
---
RELATED LINK: RESOLUCIÓN de 24 de octubre de 2020, de la consellera de Sanidad Universal y Salud Pública, por la se acuerda medidas adicionales excepcionales en la Comunitat Valenciana, como consecuencia de la situación de crisis sanitaria ocasionada por la Covid-19. [2020/8861]
---