The pull of Balenciaga in Xàbia: 10,000 visits in a month
Culture reinforces the schedule of the rooms that host the exhibitions until September 31, which will now also open on Sunday mornings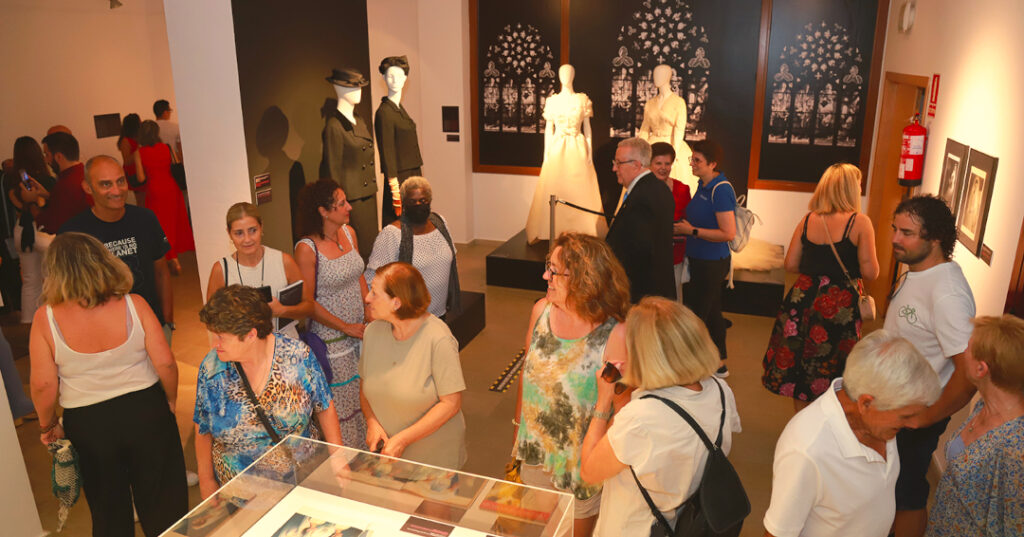 Monday 1st August 2022 · Mike Smith
Source: Ajuntament de Xàbia
The exhibition "El Siglo de Balenciaga" celebrates one month in Xàbia and has become a surprising success in the cultural agenda of the municipality, with data compiled by the Department of Culture showing that the exhibition has received more than 10,000 visits throughout the month of July.
The most successful room has been the Centre d'Arts Lambert, located in Casa de Tena, Carrer Major in the historic centre, with 4,096 registered visitors. It is the one that shows the time of great plenitude of the sewing master, with his most significant pieces (day suits, cocktail and evening suits, coats and wedding dresses), as well as photographs, paintings and other objects.
The municipal museum has attracted the 3,370 visits, an exhibition which evokes Balenciaga's early years in fashion, whilst 2,317 people who passed through the Casa del Cable in port to discover his disciples such as Felisa and José Luis, Villahierro, Ungaro or Givencgy. In total 9,783 visitors have enjoyed the varios exhibitions, in addition to the hundreds who participated in the opening day, exceeding 10,000 visits during the month.
The councillor responsible for Culture, Quico Moragues, expressed his great satisfaction at the popularity of the exhibitions which have also revitalized both the historic centre and port zone as the exhibitions are distributed among three rooms in both urban centres.
To give people who work during the week more options to visit it, the Department of Culture has decided to extend the opening hours of the exhibition rooms and the Soler Blasco Municipal Museum during August and September, making it easier for all of them to open on Sunday mornings.
Centre d'Arts Lambert and Soler Blasco Municipal Museum
Tuesday to Saturday: 10.00am to 1.00pm and 6.00pm to 9.00pm
Sunday: 10.00am to 1.00pm
Casa del Cable
Tuesday to Saturday: 10.30am to 1.30pm and 7.00pm to 11.00pm
Sunday: 10.30am to 1.30pm
In addition to the exhibitions, there will be a round table entitled "Diálogos con Balenciaga" to be hosted by Atelier de Bataille Living (Calle Bruselas, 8) this Friday 5th August with the participation of Sandra Mira , Candela Albert and Jessica Bataille. Admission is free.
---

---