The Non-Competitive Women's Course is changed to Sunday 3rd April
The poor weather predicted throughout the weekend has forced the organisers to cancel this Sunday's event and push it back to Sunday 3rd April.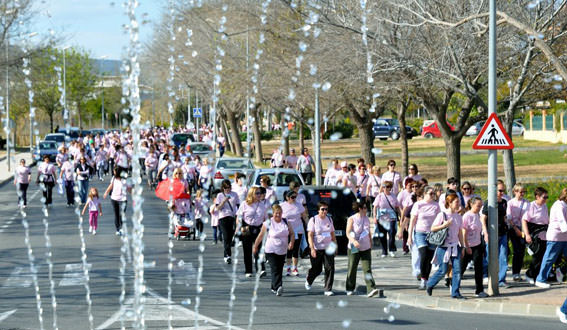 ---
Updated: Friday 18th March 2022 – Mike Smith
Source: original article – Álvaro Montfort (Xàbia AL DÍA) / press release Ajuntament
---
Due to the ongoing wet weather forecast for this weekend, the organisers Club d'Aletisme de Xàbia and the Department of Equality in Xàbia have decided to postpone the event and have re-scheduled for Sunday 3rd April. Registration will remain open for another week (both via the link given in the main text below or Decuero in Plaça de l'Esglesia and the commemorative shirts will be delivered on Friday 1st April.
The 14th edition of the Non-Competitive Women's Course, a popular 'race' which runs through the historic centre and Duanes de la Mar and is organised by Club d'Atletisme Llebeig de Xàbia and Xàbia Council, continues to establish itself as a benchmark of visibility of women, sport and solidarity.
This year's event will be held on Sunday 3rd April and, as always, participants have the option of running or simply walking the 5.3 kilometre course, highlighting its objective of creating awareness around women, in a friendly way, in a supportive and non-competitive nature.
The organizers have reported that more than 400 women have already registered to participate; there is still time to take part and you can register through this link or in person at Decuero in Plaça de l'Esglesia, Esports Colau (Avenida Jaime I) or Inmobiliaria Llidomar (Avenida del Arenal, 5, Edificio Áncora).
The registration fee of 5 euros will be donated to INCLIVA, which does research work on the eradication of cancer, and CONDENADOS AL BORDILLO, which is an association working on the inclusion of people with functional diversity. It is also possible to contribute to both without the need to physically participate in the race through the Solidarity Number 0.
Registration closes on Wednesday 23rd March at 2.00pm. The first 1,000 to register will receive a commemorative T-shirt as a gift.
The delivery of numbers and shirts will take place on Friday 1st April at CEIP Graüll Athletics Track from 5.00pm to 8.00pm or on the day of the race from 8.30am to 9.30am in the same place.
As in previous years, the event has two categories for running – Absoluta for those born between 1973 and 2008, and Master Plus 50 for those born in 1972 and earlier. In both categories, trophies will be awarded to the top three finishers. The walking option is purely non-competitive.
---
---