The Christmas National Lottery. Be part of it.
Tickets are already on sale for the biggest lottery in the world, the Spanish Christmas National Lottery, and we have two numbers available to buy.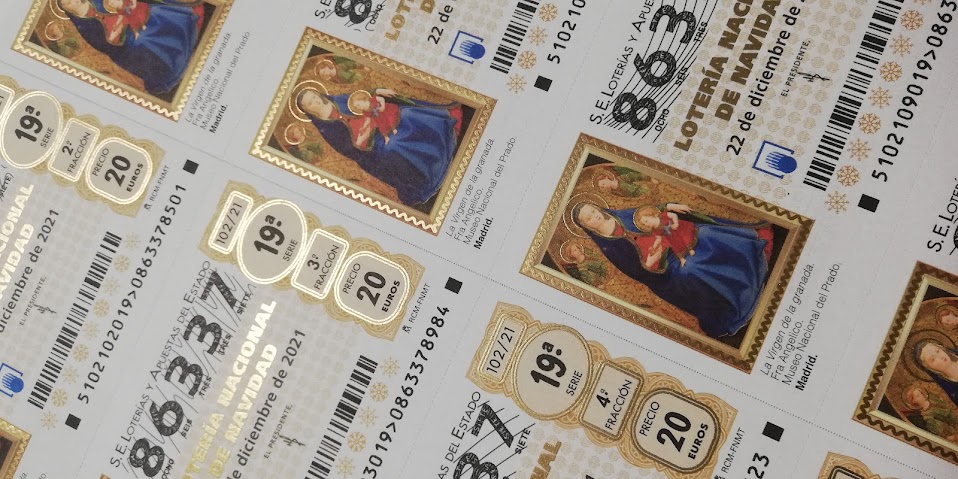 Thursday 30th September 2021 – MIKE SMITH
---
The summer has barely finished and thoughts are already turning towards a very special day in December, a date that can change the fortunes of not just one person but also whole communities. That day is December 22nd – it happens to be a Wednesday this year – when many eyes and ears in Spain will be glued to the television or radio from which magical numbers will be sung by schoolchildren from the stage of the Teatro Real in Madrid. For this is the day of Spain's Christmas National Lottery, which offers the biggest prize fund in the world, a total of some 2.5 billion euros.
Although the draw is still just under twelve weeks away, tickets have been available to buy since the middle of the summer. These are precious pieces of paper for each ticket has the potential to win 4 million euros. And the odds of doing so are pretty good; a ticket holder has a 1 in 100,000 chance of winning that top prize – "El Gordo", the "Fat One" – whilst the odds of winning your money back are 1 in 10. Compare those odds to winning the top prize in the Euromillions on a Friday night are as high as 1 in 5 million; you have more chance of being struck on the head by a meteorite.
The tickets are not cheap – they cost 200 euros each – but each ticket is split into ten shares, known as 'décimos', which make them a lot more affordable and it has been estimated that 98% of the adult population participate in the draw every year. Last year, the winning number – 72897 – was bought in the port area of Jávea; although that number was sold throughout the country, each series of the ticket still won 4 million euros each; each décimo won 400,000 euros.
Would you like to take part this year? We have a couple of numbers available – 36085 and 86337 – which we are selling on behalf of Filà Schaitans and the Fogueres Commission respectively. Each décimo is priced at 23 euros each, the 3 euro addition benefiting each organisation as a donation towards the funding required to stage the two popular fiestas in town.
If you would like to buy one (or one of both numbers, improve your chances!), please get in touch with us via the contact form at the bottom of this page.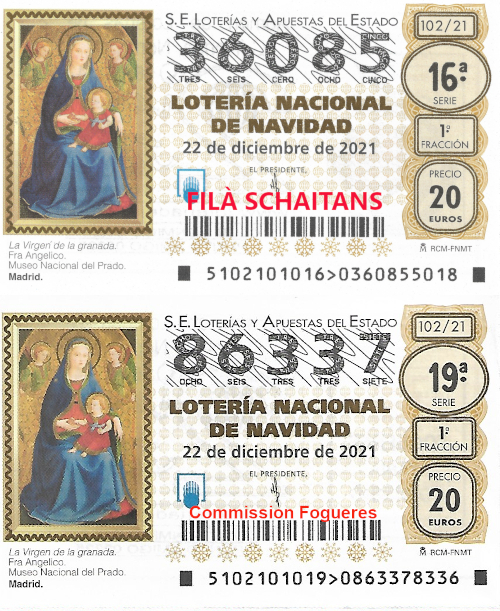 Click on the link below to learn more about EL GORDO – The Christmas National Lottery in Spain.
---