The board of directors of CD Jávea resigns in full
David Tíscar's team claims the lack of enthusiasm to be able to face a new season and above all deal with the bureaucracy of the town hall.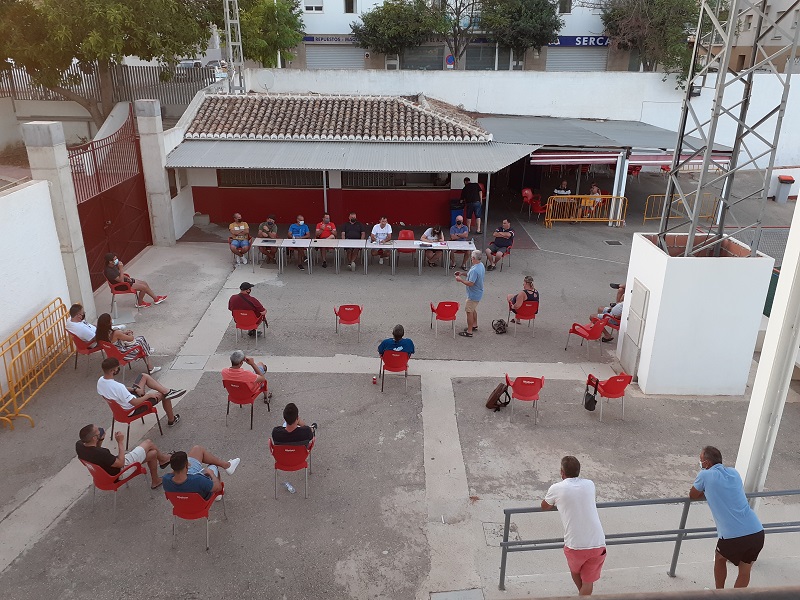 Thursday 29th July 2021 – CARLOS LÓPEZ with Mike Smith
---
The board of directors of CD Jávea, led by David Tiscar, has announced their resignation in full during the club's AGM held on Wednesday evening. The president explained that "we have had many discussions and we remain friends" but alluded to the lack of enthusiasm of the board after several years at the helm of the club.
He further explained that, during the last season, "we have not received a single euro from the town hall" – there is an annual agreement for 117,000 euros of municipal grants – and revealed that the reason that they have been given by the council is that all sporting grants have been subject to an external audit to supervise and control the correct use of public funds which has delayed all the procedures. Until the audit is completed, the funds cannot be released.
The president explained that the previous agreement was signed off by the council with no problems and assured that when the funding is finally received, all club workers, coaches, players and suppliers will be paid, an outstanding debt of around 104,000 euros.
In his speech, Tiscar thanked his colleagues for their work during a season in which many different decisions were made "sometimes right and sometimes wrong" and said that he didn't want to speak badly of the council as the club has always had its support and that he still thinks that they should continue supporting the club.
After the full resignation of the board of directors, an electoral period will open and a new management team created along the following schedule:
August 5: Publication of the electoral roll at the football ground.
August 26: Presentation of candidates
August 30: Candidate Manifesto Pledges
September 3: Election Day.
September 6: Any challenge to the results and their resolution.
September 10: Definitive announcement of the results and presentation of the new board of directors.
Accounts 2020/2021
INCOME
29,325 € – Remainder of Council Grant – not yet collected
87,975 € – Remainder of Council Grant – not yet collected
1,950 € – Membership Fees
2,605 € – Tickets and Raffles
11,115 € – Advertising
11,750 € – Bar Rental
70,530 € – Registrations for Season 2020/2021
8,300 € – Clothing Profit
4,000 € – FFCV Grant (Valencian Football Federation)
Total: 227,330 euros
OUTGOINGS
110,000 € – CD Jávea Playing Squad, Coaches, etc.
12,920 € – Fuel
16,032 € – Coach Transport
2,938 € – FFCV Fees
11,269 € – Referees
15,303 € – Mutuality
52,789 € – Kit and Clothing
623 € – IT
1,396 € – Pharmacy
786 € – ACYDMA (Marina Alta Cultural and Sporting Association)
350 € – Printing and Official Material
2,362 € – General Expenses
283 € – Financial Expenses
Total: 227,061 euros
The club's AGM was held at the football stadium with all the safety and health measures required by COVID-19 and was attended by 9 directors and 20 members out of a total of 215 members up-to-date with payment.
---

---