Study will assess effects of the works on the harbour wall on Pope beach
The contract for the project will be awarded "shortly"
---
Monday 14th February 2022 – CARLOS LÓPEZ
Translated from an original article published on Xàbia AL DÍA
---
The General Directorate for Ports has contracted technical assistance to assess the effects of the works that it has projected for the Xàbia port harbour wall and breakwater that will result in the virtual disappearance of the Pope beach.
Sources from the Ministry of Territorial Policy have confirmed this stage to Xàbia AL DÍA when it was approached about the paralysis of the final award of the work, according to the information published on the State Contracting platform in which the works do not appear or have not been awarded, although there was a proposal for an award to the Licuas company, after rejecting the offer from the construction company Vialobra, for not justifying the very low financial bid.
It should be noted that a study was announced by the mayor José Chulvi, after an online meeting with the head of the department, Arcadi Spain, after the public and political controversy that arose after Xàbia AL DÍA published the news of this project.
The Ministry of Territorial Policy have subsequently explained that procedures are already in motion for the preparation of the financial documentation and when this internal process has been completed, the project, which has a maximum execution period of three months, would be awarded soon afterwards.
The Ministry is offering the project management and the health and safety contract, a service that must be awarded before the construction company can start work in the area.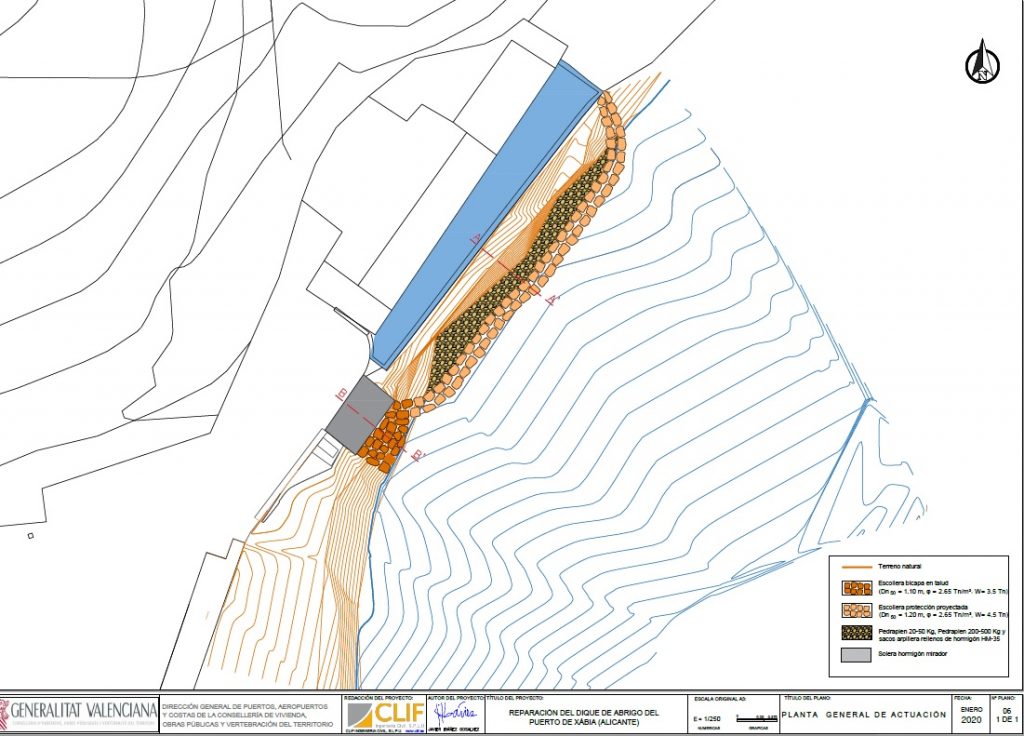 The project aims to protect the base of the rock face on which the terrace of the Restaurante Tangó sits from erosion, while maintaining the landscape value of the cove to minimally alter the current environmental situation, and given that a vertical wall supports the platform on which the restaurant sits, it already has a resistant defensive element against the waves, whose only weakness is that its base has cavities through which the waves penetrate and erode underneath.
The project report states that "it is not about building a breakwater dam" something that, in his opinion, "would produce an excessive and unnecessary impact on the landscape", but rather it is about "creating a protection with huge breakwater stones of 4.5 tons of weight per edge and equivalent diameter of 1.2 meters in front of the base line of the vertical rocky front".
---
Related Links
---

---

---