Sara Alonso and Adil Moussaoui win the Granadella Trail 2022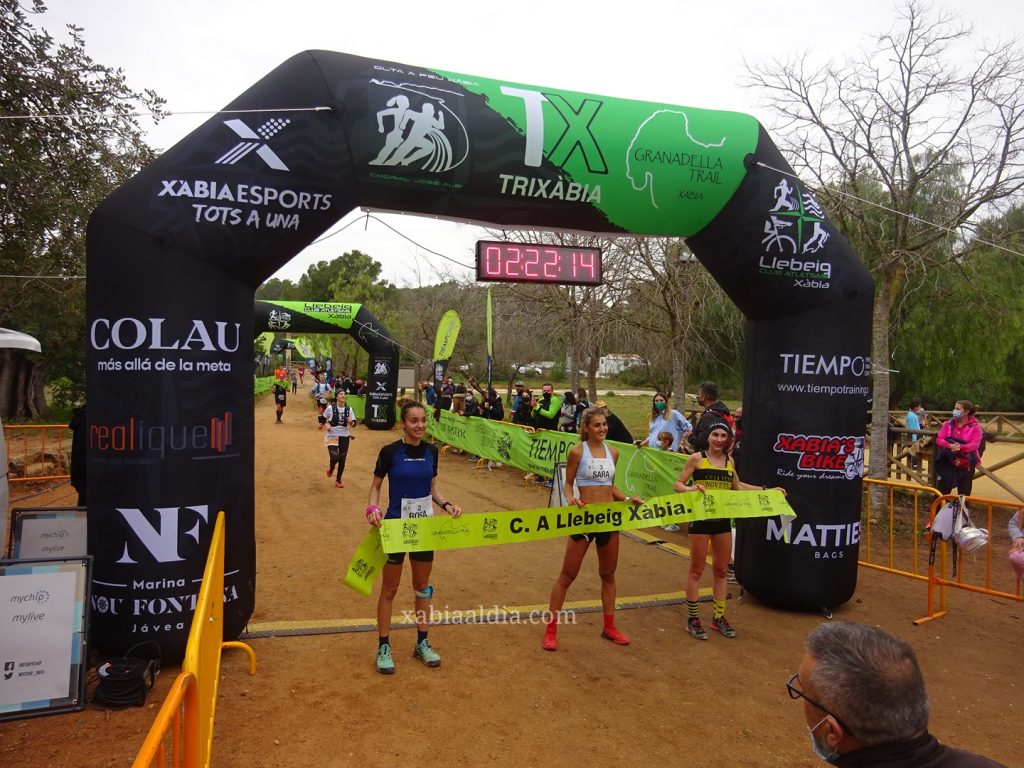 ---
Sunday 6th February 2022 – CARLOS LÓPEZ with Mike Smith
---
Just over 290 runners crossed the finish line on the 2022 edition of the prestigious Granadella Trail mountain race which covered a challenging 21 kilometre route across the Parque Forestal de la Granadella on Sunday morning, whilst just over 210 runners completed the shorter Sprint course of 14 kilometres.
Granadella Trail 21km
And it was Adil Moussaoui (Club EGARI Trail) who recorded the fastest time to complete the course – 1h 35m 41s – which was 41 seconds quicker than second-placed Antonio Martínez Pérez (Club SCARPA) and almost seven minutes faster that third-laced Adrian Ivars Ivars (CD Montaña y Escalada Like Sport Llurbel).
In the Female section, Sara Alonso (Bilbao BM-Salomon Spain) finished top with time of 1h 57m 06s, well ahead of runner-up Rosa María Lara Feliu (CD Montaña y Escalada Like Sport Llurbel) who completed the course with a time of 2h 07h 28s and over 23 minutes faster than third-placed Reyes Moreno Barberà (CE La Vespa de Nouvelle).
CA Llebeig Xàbia
02:11:04 Juan José Vallés Sendín
02:27:25 Alex Gaya Rosello
02:29:23 Patxi Martínez Gorostiza
02:30:53 Jaume Pastor Peiró
02:31:27 Joan Fullana
02:37:50 Jaume Costa Albi
02:29:13 José Luis Martín Colmenarejo
02:45:01 Mark Langley
02:55:39 Lisa Childs
03:03:00 Juan Bolufer Cardona
03:07:15 Araceli Seguí Albert
03:24:42 Vicky Bolufer Fuentes
04:15:09 Roa Maria Ramos Gimeno
Xàbia Runners
03:31:50 Quique Marin
Granadella Trail 14km Sprint
In the 14km Sprint Trail, it was Williams Alveiro (Team Williams Renault) who finished fastest with a time of 1h 09m 19s, almost eight minutes ahead of runner up Noel Tornero Caballero (CA RickySportTeam Alzira), with Martín Aguado Sendra (CA Valencia Esports) coming in third with a time of 1h 17m 28s.
In the Female section, Cindy Van Gerwen (Grup Atletisme Publidom) topped the list with a time of 1h 40m 57s, just over two minutes ahead of local runner Marisol Catalá Prats (CA Llebeig Xàbia) who finished with a time of 1h 43m 07s, with Laura Masiá Martínez (CEM Simat) claimed third spot with a time of 1h 47m 37s.
CA Llebeig Xàbia
01:36:31 Raul Bover i Bolufer
01:39:50 Antonio Morillo Cabrera
01:43:07 Marisol Catalá Prats
01:47:45 Juan Bautista Tachó Ferrer
01:49:00 Ambrosio Soriano Salines
01:54:46 Ana Gonzalez
01:54:50 Cristobal Buigues Buigues
01:56:12 José González Mestre
01:57:09 Manuel Alvarez López
01:59:16 Ricardo Juan Molina
02:03:53 Enrique Miralles Vela
02:03:53 Clara Juan Villanueva
02:04:12 Benito Catala Cristostomo
02:05:25 Jaume Moll Morell
02:06:52 Javier Garcia-España Serra
02:13:34 Marsha Vanthull
02:19:38 Miguel Vallés Sendín
02:22:17 Blai Ferrer Bisquert
02:27:27 Miriam Annegret Moritz
02:46:13 Madelaine Powell
02:46:15 Veronica Sapena Devesa
02:46:20 Bea Sellés Sánchez
02:53:56 Marina Espinós Vallés
02:57:01 Jiayin Yang
Beer Runners Xàbia
01:52:11 Pedro José Martínez Sánchez
02:20:40 José Serrat Montero
02:24:37 Sina Staub
For full results, click here (external link).
Photo Album
---
---

---