Residents in Calle Sella complain about being blocked in by building work
One resident had to wait an hour before being able to leave their house; fortunately the trip was not urgent or vital.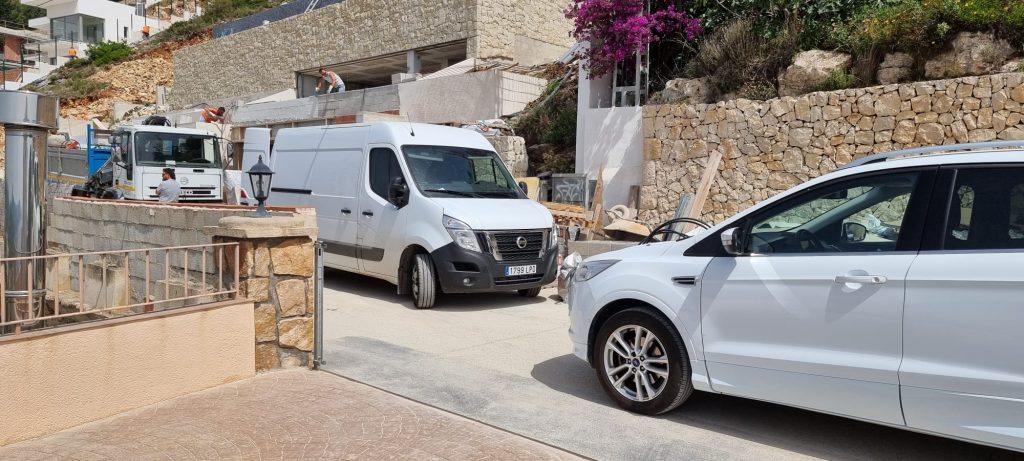 Friday 18th June 2021 – CARLOS LÓPEZ with Mike Smith
---
A resident living in Calle Sella in the La Corona urbanization has sent several images to XAD that show the problems that the road is suffering due to the numerous construction work being carried out in the area and the lack of municipal control over the fact that the street is occupied by construction materials.
These materials occupy several sections of this narrow street and, on occasions, resident have complained that they have been blocked in, not being able to leave, whether it be by building material or by cement lorries parked in the middle of the road whilst unloading. As the street is so narrow, one of the property walls has even been damaged by the construction work.
The resident explained that they have repeatedly complained about these actions and the fact the road becomes clocked several times to the local council as recently as last Tuesday when they had to wait more than an hour to be able to leave their house. Fortunately, the trip was not urgent or vital.
The construction work continues to cause distress and, whilst the resident is aware that houses must be built, they also claim that they have had to "endure the noise", hoping that the municipal bylaws on construction work during the summer months which come into force in July will limit the hours during which noisy construction can take place.
In addition, another thing is the municipal neglect of an area which has already been dubbed the golden mile of Xàbia, which does not even have pavements, street lighting, tarmaced roads, or even a sewage system. The resident complained that "we pay IBI as if we have luxury services but we actually have zero services".
---

---