Residents and businesses unhappy at weekend closure of main road in the town
They claim that they have not received information directly about the execution of the works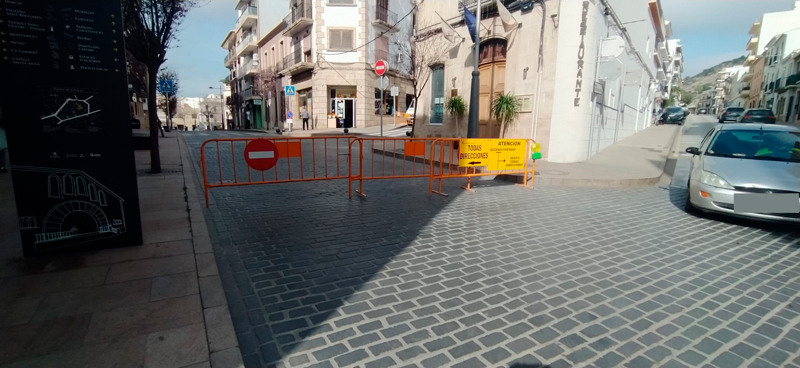 Saturday 20th February 2021 | CARLOS LÓPEZ (Xàbia AL DÍA)
Several residents and businesses in Xàbia Histórica have expressed their frustration to XAD that the Council has maintained the closure of Avenida Príncipe de Asturias, which is under repair, during the weekend.
Alicia Martínez, owner of the El Zagüán shoe store, has spoken on behalf of these small businesses, expressing her frustration after arriving at her shop this morning Saturday to find that Avenida Príncipe de Asturias was still closed. According to Martínez, "on Friday afternoon the workers left" and she acknowledged that all the businessmen and residents thought "that the barriers would be removed and the road reopened on the weekend". But it has not been that way.
Martínez commented that the work "has not started on the right foot" since the operators "have had to redo all the sections they had fixed" since work began on Monday, after the responsible technician decided that the work wasn't up to scratch during an inspection visit.
The shop owner expressed her disappointment at the lack of information from the Council regarding the execution of these works that only "aggravate" the crisis suffered by small businesses since the beginning of the COVID-19 pandemic. She has also considered that the Council has not helped the those businesses that are not in the hospitality sector "and are squeezed every day".
In fact, she has proposed that the responsible councillors (Kika Mata (Services) and Isabel Bolufer (Works) explain the details to the residents and businessmen in the Plaza de la Iglesia "from the balcony and we in the square, keeping the required social distancing".
The Council assured in its press release about the project that it would report on the evolution of the works through its Telegram channel, however, it has only sent two messages about them, the first on Monday and the second on Wednesday.
---
Click below to read the original article in Spanish on Xàbia AL DÍA

---