PROTECCIÓN CIVIL RECORDED MORE THAN 3,800 HOURS IN FOREST SURVEILLANCE
The voluntary body dedicated some 3,860 hours to forest fire surveillance tasks during the summer of 2020.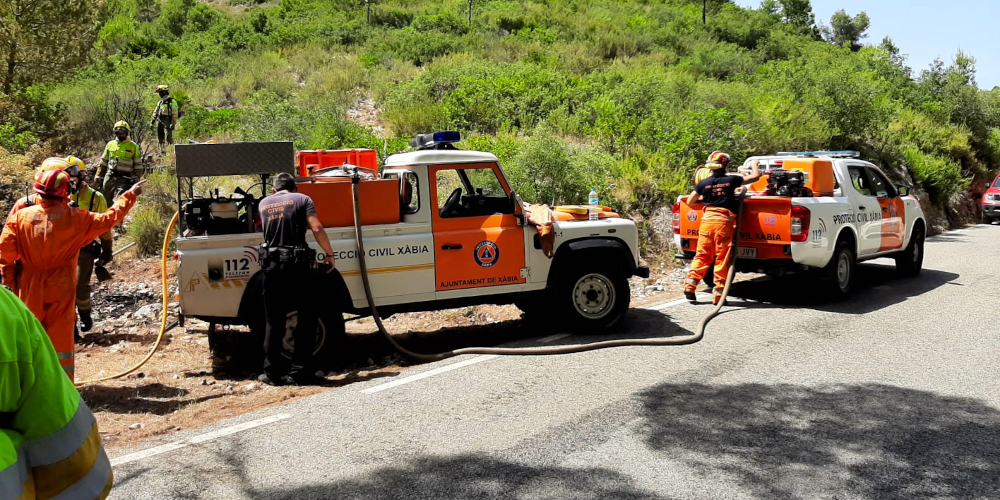 The local branch of Protección Civil has presented a special report for its activities during the summer when it was not only responsible for providing manpower for surveillance of Xàbia's forested areas against the threat of fire but also provided support to the Policía Local in preventative measures related to the COVID-19 health crisis. Such work included special monitoring tasks on the municipality's beaches to prevent fires and crowds during the night of Sant Joan as well as the control of access to the beaches during the first two weekends of the summer season.
Between June 1st and October 14th, its 32 volunteers dedicated a total of 3,860 hours to these services; 1,255 in June, 870 in July, 985 in August, 545 in September and 205 in October.
In addition, volunteers attended several emergencies, mostly related to fires or outbreaks. These includes seven fires, another five outbreaks, three vehicle fires, two container fires and one of electrical origin. They also support traffic accident responses as well as the search and location of a missing person in the Granadella forestry park area.
The Protección Civil have also provided a fundamental service to personal safety during the summer in Xàbia. Morning and afternoon shifts were organised with the assistance of four volunteers to monitor the municipality's forested zones from the fire tower in Granadella and from the viewpoint of Cap de Sant Antoni. The crews also updated on a daily basis the current fire risk status on information panels in the Montgó natural park and enjoyed regular communication with the Alicante's Emergency Coordination Centre to report incidents.
Councillor Pepa Gisbert (Security and Emergencies) expressed her gratitude for the willingness of the volunteers of the Protección Civil to collaborate with other security services to meet all the necessary requirements, especially during the COVID-19 health crisis. "We have been able to count on them for everything from Storm Gloria to the State of Alarm lockdown when they were on hand to assist and even encourage the little ones when they were confined."
The councillor added that the Protección Civil Xàbia has been the first branch in the region to obtain official accreditation to provide manpower to face forest fires which, together with its rapid response capacity, has been the key in preventing fires from becoming more serious situations.
---