PP claims that request for Storm Gloria aid has been rejected by the Government
It claims that the request for funding was rejected due to the Council missing the deadline. "The lack of diligence has its consequences."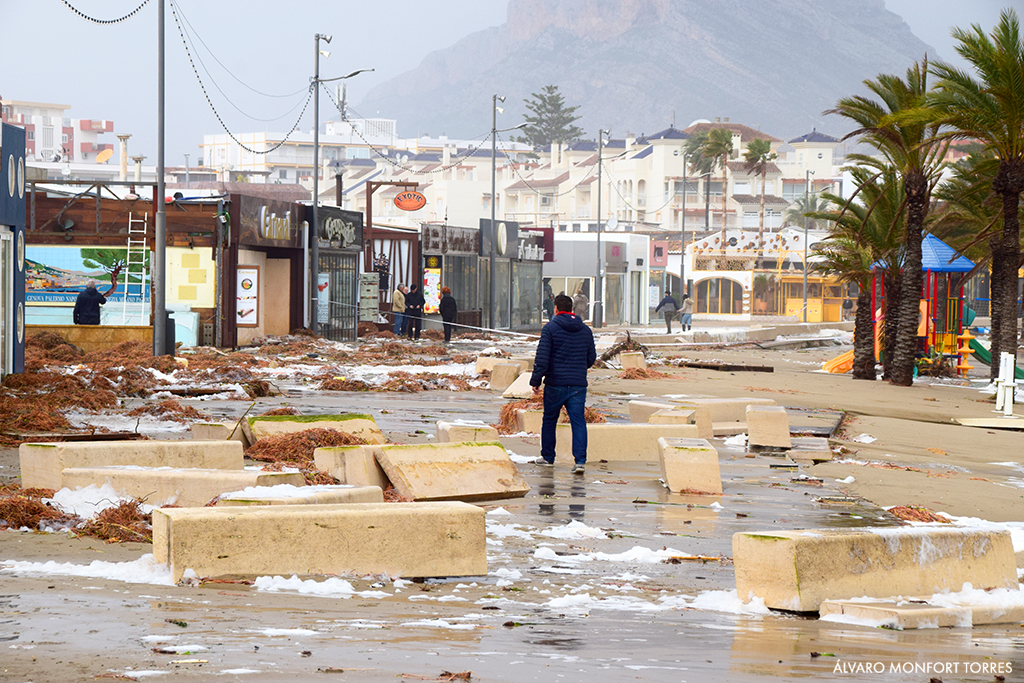 Saturday 31st March 2021 | CARLOS LÓPEZ; translation MIKE SMITH
In a statement, the PP de Xàbia has claimed that the Ministry of the Interior has rejected Xàbia Council's application for funding support to alleviate the effects of Storm Gloria due to the request being submitted after the deadline.
The Council requested funding worth some 440,000 euros to meet the expenses it incurred during January 2020 after the passage of the savage winter storm left a catalogue of damage throughout the municipality, particularly along the sea front, and most seriously on the Arenal beach.
It has now been claimed that the request has been rejected due to the Council missing a deadline. The PP statement says that "deadlines are insurmountable" and since it is the Ministry of the Interior that defines the end of Storm Gloria declared by AEMET, the state meteorological agency, it is precisely that period that it in question. Once the end of the storm has been declared, a period of 30 days is granted for the presentation of a request for funding.
In their statement, the PP has claimed that the Council "tempted fate" and has missed out on 440,000 euros worth of aid that it deserved "as one of the municipalities most affected by that storm". It goes on to claim that "the lack of diligence has its consequences".
In addition, the opposition has demanded that the local government "takes these opportunities seriously and works in a timely manner so that aid as important as this is not rejected and, above all, for having requested it after the deadline".
Escrivá (C's) requests access to the municipal file of the aid application
This matter was presented in the plenary session held on Monday, since one of the mayoral decrees was to present appeal for reconsideration of the rejection of the request by the Ministry of the Interior.
The spokesman for Ciudadanos, Enrique Escrivà, asked the local government for explanations to find out what had happened, while also demanding that the application file be made available to all councillors.
In her response, councillor Montse Villaverde (Projects and Grants) explained to the plenary session that the Council considers that the application was presented in time and that they had waited for all the documentation to present the request.
---
Click below to read the original article in Spanish on Xàbia AL DÍA

---