Police raises 6,000 euros for the fight against childhood cancer
The 'Pels Valents' campaign has raised more than 400,000 euros for charity nationwide.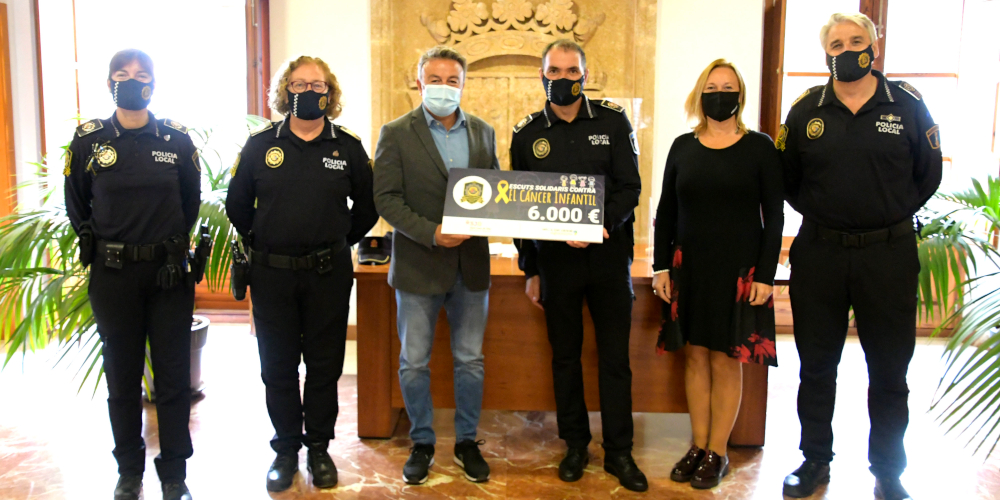 The Policía Local de Xàbia has contributed 6,000 euros to the 'Pels Valents' campaign that encourages police officers from different points of the country to raise funds for the fight against childhood cancer. The money raised will be donated to Aspanion Comunidad Valenciana and to the construction of the Sant Joan de Déu Pediatric Centre in Barcelona.
The funds were raised through the sale of special crests that combine wht police badge of Xàbia with the hashtag #pelsvalents, and they have done so with the support of numerous shops, businesses and associations who have become distribution points throughout Xàbia.
The local police joined the project last year at the initiative of officer Mariano Armero, who has also been a campaign ambassador in other municipalities in the Marina Alta and across the Comunidad Valenciana. Mariano, along with fellow agents Vicen Buigues and Rosa Romas, has been in charge of coordinating the project and distributing the embroidered crests, which were available for sale for 5 euros.
The force would like to thank to all those who have done their bit to support campaign which has already raised some 400,000 euros across the nation. the campaign is still active and those interested in becoming distribution points should contact the Policía Local at their headquarters in Portal del Clot.
---