Police officers attend to 85 complaints about noise disturbances in homes during the weekend
21 officers were on duty during each of the two shifts in force over these days
Tuesday 10th August 2021 – CARLOS LÓPEZ with Mike Smith
---
The chief superintendent of the Policía Local de Xàbia, José Antonio Monfort, has reported on the weekend's interventions by his officers in response to calls from the media for more information in addition to the newsworthy data of illegal street drinking (botellones), social gatherings, and private parties in homes.
In the report, Monfort detailed one of the problems he has when organizing his staff, explaining that he has a total of 21 officers on hand per shift, with the day divided into two works shifts, who had to deal with a total of 177 calls between 6.00 pm on Friday 6th August and 6.00am on Sunday 9th August.
85 – Noise disturbances in home.
56 – Speeding offences.
42 – Violations of Road Safety Laws.
18 – Offences of consuming alcohol in public spaces and other offences against the Coexistence bylaw.
17 – Interventions to maintain Citizen Safety in Public Spaces.
10 – Healthcare service support.
5 – Legal proceedings against property and injury.
5 – Interventions for parties in private homes.
4 – Positive Breathalyzer Tests
2 – Home fires.
2 – Traffic accidents
1 – Intervention for violation of COVID-19 regulations.
1 – Intervention for gender violence.
Monfort added that, as expected, the night closure of the access to the Cap de Sant Antoni viewpoint saw those wanting to engage in open-air drinking – the botellón – moved elsewhere, such as Cala Blanca, where the police intervened and blocked access, and even Camí Vall de la Granadella and the AMJASA water tanks on the heights of the Granadella ridge, which forced the police to bar access at the junction with Calle del Castaño with barriers. In the case of Cala Blanca, Monfort explained that the town hall has deployed a private security guard "by emergency means" to enforce access control.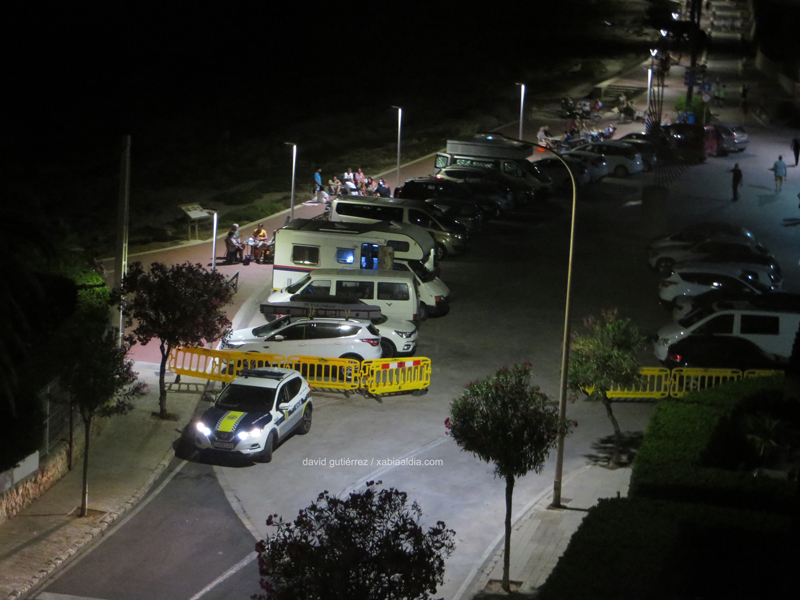 ---

---