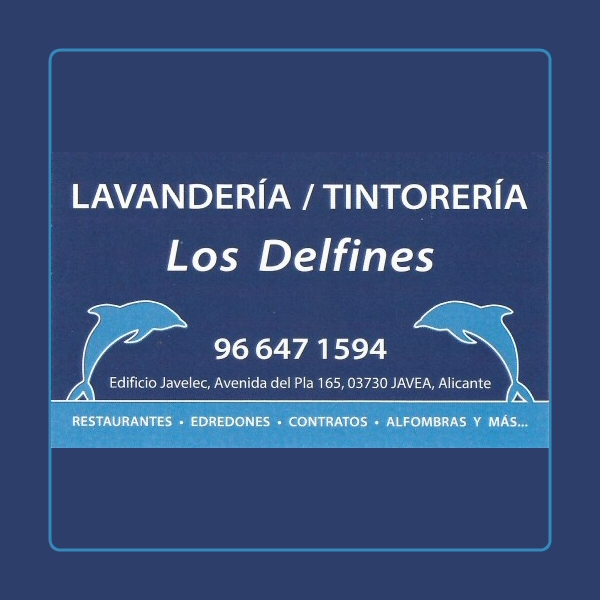 Lavandería Los Delfines is a long-established launderette and dry cleaning business based in the Arenal area of Jávea. They can offer washing, drying, ironing and dry cleaning services from one item to a hundred items using a wide range of machines including 5kg-30kg washing machines, roller irons, hand irons and driers from domestic to commercial.

Lavandería Los Delfines can offer laundering of clothes, duvets, bed covers, blankets, pillows, cushions, cushion covers, sofa covers, sun loungers and curtains. They offer special rates for bars and restaurants as well as villa turnarounds which are charged on amount per week. Waterproofing and starching services are available and they are also agents for carpet and leather cleaning.

Whilst they cannot guarantee to remove all stains or mold, the experts at Lavandería Los Delfines will always try their best and there is no extra charge for re-cleaning or stain-removing chemicals.

---

Please mention javeamigos.com when dealing with Lavandería Los Delfines.

Avenida del Pla, 165 - Arenal

03730 Jávea (Alicante)

No Records Found

Sorry, no records were found. Please adjust your search criteria and try again.

Google Map Not Loaded

Sorry, unable to load Google Maps API.

Rosario Carder - Efficient service. I'm a satisfied customer.

Colin Smithson - Great service.

Dorothy Scott - Great place. Very efficient too.

Lorna Ainsworth - The best. We have used them for years.

Maureen Ann Thomas - Excellent service from friendly staff, used for years.