PHOTO NEWS: The Three Kings bring joy to Xàbia on special evening
The Christmas period came to an end as Melchor, Gaspar and Baltazar arrived in Xàbia by fishing boat and joined their special entourage as it paraded through the town.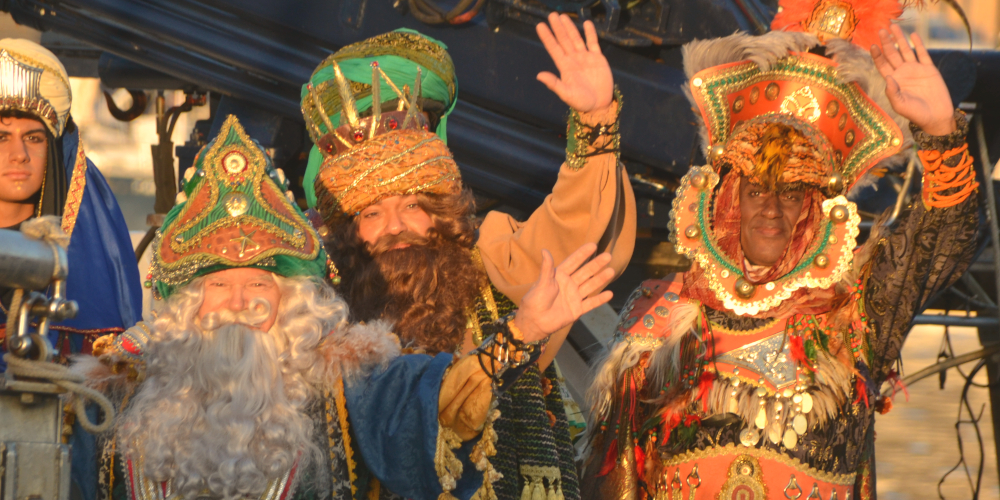 Tuesday 7th January 2023
Mike Smith
---
As the sun dipped towards the horizon, the evening chill didn't put off the huge crowd that gathered around the harbour anticipating the arrival of the Three Kings – Melchor, Gaspar and Baltasar – who, as has long been tradition, would arrive in Xàbia by the fishing boat Chorroll Cinc.
A few minutes later than expected, the firing of rockets heralded the approach of the vessel carrying their Majesties, who eagerly returned the waves and cheers from the excited crowd, before being helped onto dry land to be greeted by mayor José Chulvi, the councillor for Fiestas Kika Mata and councillor Rita Berrutti as well as parish priest Don Francisco Murillo.
And then commenced a great royal cavalcade which ran non-stop from the harbour to the Placeta del Convent, a two and half hour procession featuring musicians, dancers, heralds, volunteers from the various fiestas commissions and members of Quintà 2023. Now and then, it would stop and grand blue ladder lifted against a balcony up which a young page would climb laden with presents for a lucky young recipient.
The procession stopped momentarily in Avenida Jaume I to allow the kings to take to the stage and greet the many children and their families who had been waiting patiently in the increasing chill, before continuing on its way up to the old town.
Church bells rang out as the parade reached the town, more balconies were climbed to distribute more presents, and then a grateful albeit short downhill stretch to the Placeta del Convent where another excited crowd braved the cold to welcome their majesties and received a small token from their favourite before heading back to the warmth of their homes to polish their shoes, put out the hay and wait for the grand arrival of Melchor, Gaspar and Baltazar bearing those special gifts.
And, thus, Christmas came to end in Xàbia.
Related Link: Fiesta LOS REYES MAGOS
---
---