NEW TRIANA BRIDGE FINALLY OPENS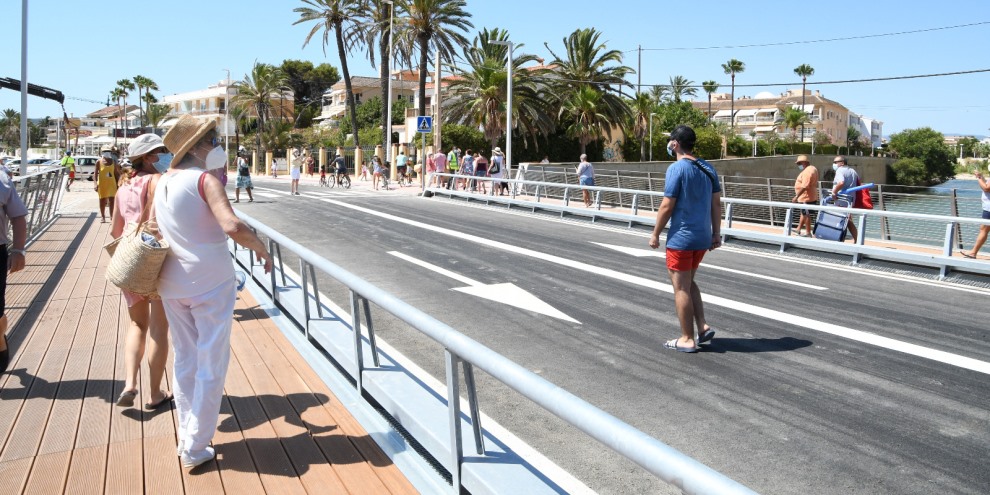 The Triana bridge crossing has re-opened today to both pedestrian and vehicular traffic. Despite there not being an official inauguration, many residents and visitors gathered to watch the mayor José Chulvi sign off the project before construction company Vilor SL removed the tape and last elements which had fenced off the new bridge. Finally, the new infrastructure is open to the public, providing not only easier movement being the port and the Arenal beach zone but also improve the overall look of the coastline in this area.
The process of signing off the project brings to a close the lengthy wait for a new crossing, some 13 years of successive difficulties since the original construction was badly damaged during the 2007 floods. The mayor explained that getting the project off the ground has been an extremely complicated procedure, involving four administrations and a false start when the company that was originally awarded the contract to build the new bridge abandoned the site almost immediately afterwards. The bridge, which had been closed to heavy traffic for some years, was finally closed completely after the DANA storm in September 2019.
After a lengthy process of cancelling the old contract and tendering for a new company to take on the project, Vilor SL was handed the responsibility of building a new crossing in January 2020 and its first task was to deal with the effects of Storm Gloria which had smashed into the coast during the same month. And then all work was restricted when Spain was placed into lockdown in March 2020 in the face of a spreading COVID-19 infection.
The project involved the demolition of the old bridge which was built in the 1960s and in its place a new single span crossing would be built, a simple lightweight design which would produce what architect Francisco Valiente would call "a floating visual effect". Finally, work has concluded and Xàbia has its new bridge, an investment of some 487,381 euros of municipal funds. It is a design that includes cantilevered walkways covered with iroko wood, accessible to people with reduced mobility, metal railings and LED illumination at night. The link between the bridge and Paseo Marina Española has also been re-developed. All that remains is for the removal of the base of the old bridge, a project already in the advanced planning stage with budget established and the contracting phase begun.
Mayor José Chulvi explained that the investments into the infrastructure in the port zone will continue with the project to asphalt the municipal car park in Calle Penáguila (176,000 euros) and the construction of an access ramp to the elevated pedestrian walkway of Calle Santísimo Cristo del Mar (21,622.70 euros) due to commence in September.