New infections continue to rise in Marina Alta; 52 in Xàbia
The Spanish Government has ruled out another national lockdown as infections continues to rise significantly across the country.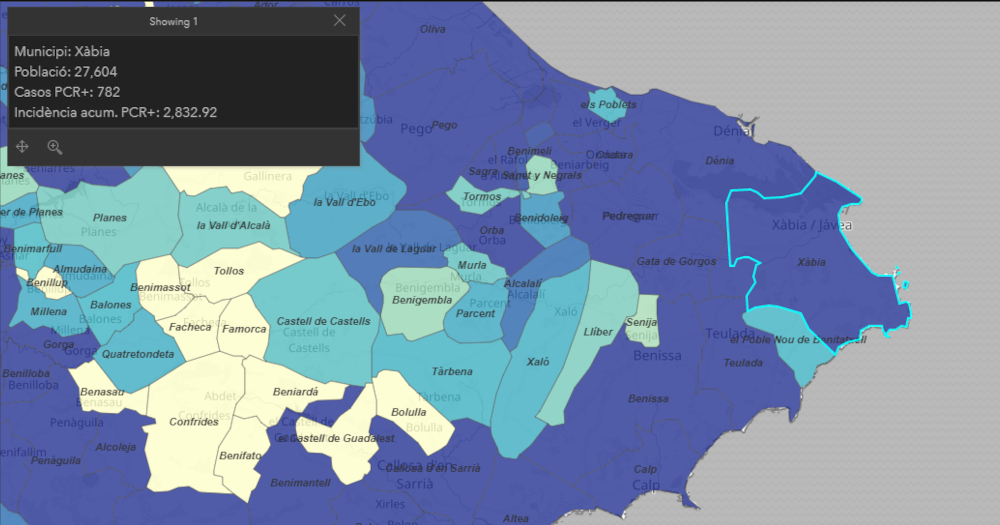 Friday 15th January 2021 | MIKE SMITH
This is the latest information on the status of the health situation in Xàbia, the Marina Alta, the Comunidad Valenciana and across Spain.
For more information, please refer to the links given at the bottom of the page as our report is based on the official figures given in these sources.
Xàbia
Xàbia has seen 52 new positive cases reported since the last update.
Latest Data (14/01/2021)
14-Day Cumulative Rate (IA): 818.72 ↑
Positive PCR Tests in the past 14 days: 226 ↑
Total Positive Cases: 782 ↑
Total Deaths: 4
Marina Alta
The Dénia Health Authority, which covers the Marina Alta region, has recorded 443 new infections since the last update, bringing the total to 5,139 positive cases since the crisis began.
There has been 4 new deaths since the last update, bringing the total to 75 since the crisis began.
Latest Data (14/01/2021)
14-Day Cumulative Rate (IA): 889.13 ↑
Positive PCR Tests in the past 14 days: 1,527 ↑
Total Positive Cases: 5,139 ↑
Total Deaths: 75 ↑
The 443 new infections have been recorded in the following municipalities:
Dénia – 109 / 1 death
Benissa – 79 / 1 death
Xàbia – 52
Ondara – 36
Pego – 32
Pedreguer – 25
Calp – 24 / 2 deaths
Teulada – 22
El Vergel – 19
Orba – 16
Gata de Gorgos – 10
Xalò – 5
El Ràfol d'Almúnia – 3
Beniarbeig – 1
Benidoleig – 1
Alcalalí – 1
Els Poblets – 1
Murla – 1
Parcent – 1
Poble Nou de Benitatxell – 1
Senija – 1
La Vall d'Alcalà – 1
Vall de Gallinera is the only municipality in the Marina Alta not to have recorded a single positive case.
News
Speaking to Radio Dénia, the director of Marina Salud, Luis Carretero, admitted that the current situation in the Marina Alta is "like we have not had since the beginning of the pandemic". His words come as it has been revealed that Dénia Hospital has been overwhelmed with patients suffering from the effects of the COVID-19 virus but he stressed that "there is still the capacity to expand if necessary". Around a dozen people are currently in the COVID ICU ward, there is a second ICU ward for non-COVID patients, and a third ward is available if needed. In the general ward, there are 40 COVID patients, with another ward available for expansion if required. Carretero admitted that he was sure that the current surge in new infections are related to the early December "puente" weekend and the festive period when social interaction was at its greatest and it is hoped that the situation begins to improve the further away we move from Christmas.
Comunidad Valenciana
The 14-day IA rate for the Comunidad Valenciana is now 667.88, an increase of almost 71% in two weeks, whilst the positivity rate2 for the Comunidad Valenciana is 29.56%.
The pressure on the health service in the region continues with 3,200 people currently hospitalized by the virus; 430 are in ICU wards. Over 40% of ICU beds are currently treating COVID-19 patients.
Latest Data (14/01/2021)
(increase or decrease in 14 days)
Total Positive Cases: 189,877 (+41,080) ↑
Positive Cases in 14 days: 33,419 (+13,868) ↑
Total Hospitalizations: 18,473 (+2,280) ↑
Current Hospitalizations: 3,200 (+1,320) ↑
Current Beds Occupied (Ward): 30.12% (+14.00) ↑
Current Beds Occupied (ICU): 47.54% (+18.29) ↑
Vaccination Data (14/01/2021)
Doses Available: 94,350 (91,450: Pfizer/BioNtech | 2,900: Moderna)
Doses Administered: 80,429 (80.43%)
Latest IA Rate by Health Authority (14/01/2021)
↑ up on 14 days ago
↓ down on 14 days ago
1,779.63 – Alcoi ↑
1328.96 – Xàtiva-Ontinyent ↑
1146.12 – La Ribera ↑
1075.42 – Elda ↑
1064.30 – Requena ↑
889.13 – Dénia ↑
777.40 – Vinaros ↑
769.89 – Valencia Clinic La Malva Rosa ↑
732.68 – Sagunt ↑
720.55 – Valencia La Fe ↑
717.20 – Valencia Dr.Peset ↑
696.40 – Valencia Hospital General ↑
659.52 – La Plana ↑
577.03 – Elx ↑
518.57 – La Marina Baixa ↑
500.33 – Valencia Arnau de Vilanova-Llíria ↑
477.00 – Castelló ↑
419.72 – Sant Joan de l'Alacant ↑
399.43 – Gandía ↑
369.30 – Alacant Hospital General ↑
252.75 – Orihuela ↑
242.74 – Manises ↑
239.61 – Elx-Crevillent ↑
50.53 – Torrevieja ↓
News
Despite the soaring figures for the Comunidad Valenciana, president of the Generalitat Ximo Puig has rejected calls for the regional government to impose a mandatory home confinement order, insisting that it remains the responsibility of the State to do so, but the current state of alarm does not allow it. More and more municipalities are calling on their citizens to stay at home and reduce social interaction as the infection continues to spread at a pace through the region. However, Puig considers that "there is still room for other measures" before a total lockdown should be considered, and has been meeting with experts to determine the possibility of new restrictions.
On a positive note, the Comunidad Valenciana is leading the way in vaccinations, having administered just over 85% of the 94,350 doses it has received, well above the national average. The majority of the doses have been provided by Pfizer/BioNtech but the region has now received a small batch of the Moderna vaccine.
Spain
The national 14-day IA rate is now 522.76. The rate has increased by over 89% in the past two weeks.
Latest Data (14/01/2021)
(increase or decrease in 14 days)
Total Positive Cases: 2,211,967 (+283,702) ↑
Total Deaths: 53,079 (+2,242) ↑
Current Hospitalizations: 18,924 (+7,389) ↑
Current % of Hospital Beds occupied by COVID patients: 15.14% ↑
Current % of ICU Beds occupied by COVID patients: 28.46% ↑
Vaccination Data (14/01/2021)
Doses Available: 1,139,400 (1,103,701: Pfizer/BioNtech | 35,700: Moderna)
Doses Administered: 676,186 (59.30%)
Latest IA Rate by Autonomous Region (14/01/2021)
↑ up on 14 days ago
↓ down on 14 days ago
1,167.36 – Extremadura ↑
761.30 – Murcía ↑
719.39 – La Rioja ↑
690.11 – Castilla-La Mancha ↑
667.88 – Comunidad Valenciana ↑
636.10 – Madrid ↑
624.21 – Baleares ↑
611.87 – Castilla y León ↑
534.18 – Melilla ↑
532.44 – Cataluña ↑
469.72 – Aragón ↑
402.86 – Andalucia ↑
391.62 – Ceuta ↑
365.99 – Galicia ↑
323.90 – Navarra ↑
320.77 – Cantabria ↑
295.32 – País Vasco ↑
235.82 – Asturias ↑
161.14 – Canarias ↑
News
As of January 14th, Spain is battling a third wave of infections, recording 35,787 new cases in 24 hours and 201 deaths in one day. Pressure is mounting on the health service with almost 19,000 people hospitalized by COVID-19, a 76% increase since Christmas, and more than a quarter of all ICU beds in the country occupied by patients suffering severe effects of the virus.
Fernando Simón, director of the Centre for Health Alerts and Emergencies (CCAES), has ruled out the suggestion that the new more contagious UK variant of the virus is behind the significant increases in new infections in recent days, insisting that social interaction during the festive period is the main cause. "It is not that the virus is more contagious, but that there are more people transmitting it. We all know why. Like it or not, we are all aware that people had a better time at Christmas than they should have."
Simón added that he expected new infections to continue to rise for a few more days before the additional measures brought in at the end of the festive period start to be reflected in the data. But he remained concerned that the country's hospitals will continue to be under pressure. "Our ICUs are suffering from the accumulation of cases in a short time and that may continue to increase."
He also warned that deaths are likely to continue to rise, the final indicator of the evolution of the virus. He explained that there are four steps: firstly, the IA rate increases, then hospital admissions climb, followed by ICU admissions, and finally the number of deaths rise, although the vaccination campaign should have an impact since the first phase has targeted the most vulnerable people.
However, Simón continues to rule out another national lockdown which has been requested by several regional governments. "The second wave, which in its most critical phase had a transmission level similar to that of now, was controlled with measures that did not involve complete confinement. The option of confinement is there, but with the level of transmission that we have and the specific characteristics of this third wave, it does not seem necessary now."
Data Explanation
1 The IA rate is the number of new cases of COVID-19 per 100,000 inhabitants over the past 14 days. It is considered the most accurate measure of the spread of the virus. A rate above 250 indicates an 'Extreme Risk' that the infection is spreading. The aim of the Spanish government is to lower this rate to 25.
2 The positivity rate refers to the percentage of all COVID-19 tests carried out which have come back positive. A high figure means that it doesn't take many tests to come across a positive result.
Resource Links
---
Tags: Comunidad Valenciana, Coronavirus Measures, COVID-19, Generalitat Vale