Music closes Xàbia's Balenciaga season this Saturday
The cultural season "El Siglo de Balenciaga" will close on Friday 30th September after breaking all attendance records over the summer.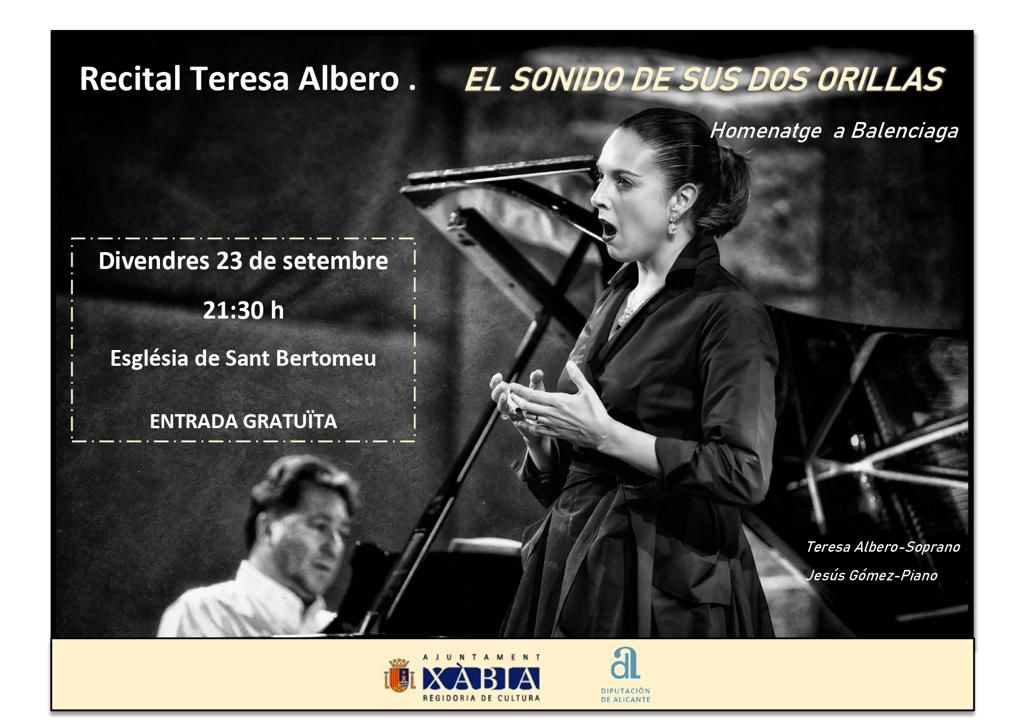 Tuesday 20th September 2022 · Mike Smith
Source: Ajuntament de Xàbia
The Department of Culture in Xàbia brings to a close the special season dedicated to renowned fashion designer Cristóbal Balenciaga, held in commemoration of the 50th anniversary of his death whilst spending time in the municipality.
The successful exhibition "El Siglo de Balenciaga", which has occupied the three municipal halls for the last three months and broken all attendance records, will have a musical touch this Saturday 24th with an opera and zarzuela recital starring the soprano Teresa Albero and Jesús Mª Gómez at the piano.
The concert will be hosted in the historic fortress-church of Sant Bertomeu at 9.30pm and admission will be free. Entitled "El sonido de sus dos orillas. Homenage a Balenciaga", it will offer a repertoire with themes by Mediterranean composers, such as Óscar Esplá and Rodríguez Albert as well as Basque composers such as Pablo Sorozábal and Jesús Guridi, among others.
The exhibition season "El Siglo de Balenciaga" will remain open until Friday 30th September. It is divided across three spaces:
the Museo Soler Blasco in Calle Primicias in the heart of the historic centre recalls its origins and early work;

the Centre d'Artes Lambert in Carrer Mayor reviews his golden years with objects, photographs, paintings and pieces representative of his work (coats, day and cocktail suits, evening suits and wedding dresses);

the Casa del Cable, located on Paseo Marina Española in the port, reveals his legacy and the paths taken by his main disciples (Felisa Irigoyen and José Luis Molina, Villahierro, Ungaro, Courrèges and Givenchy) after the closing of the Balenciaga house.
---

---