More than 200,000 EU COVID-19 certificates have been issued in Communidad Valenciana
The certificate allows the free and safe movement of citizens between EU countries during the pandemic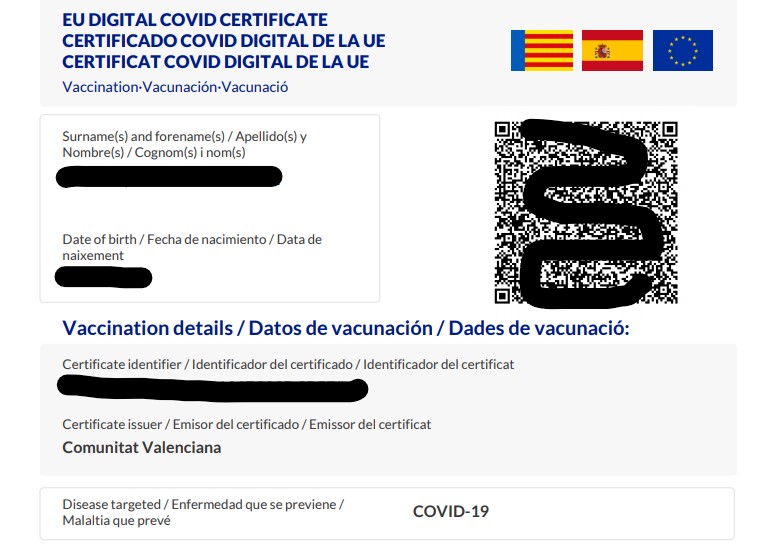 Thursday 1st July 2021 – PRESS RELEASE with Mike Smith
---
From today, the EU COVID-19 digital certificate comes into force, a document that the Ministry of Universal Health and Public Health has made available to citizens and has already issued more than 200,000 certificates.
This certificate allows the free and safe movement between EU Member States for the duration of the coronavirus pandemic. There are three types of COVID-19 certificate available: one to prove vaccination, one to prove full recovery from the virus, and one to proof a diagnostic test. The validation of the certificate is done in the destination country, so the holder must always check the criteria required by their destination and the measures taken in response to the pandemic. The requirements that each Member State applies to the validation of the certificate can be consulted here.
Regional health secretary, Ana Barceló, said that "the Comunidad Valenciana has been one of the first Spanish regions to make the EU COVID-19 digital certificate available to its citizens". In fact, since June 7th, the regional health ministry has enabled the option of obtaining this certificate on their website, through the GVA+Salut app, or in person with an appointment request from the local health centre.
Barceló said that "currently 200.317 certificates have been issued in the Comunidad Valenciana, both online and in-person", adding that "this document is a health guarantee that will help control entry and exit of the holder to countries of the European Union, and in particular, to prevent the trasmission of the virus. Therefore, citizens will be able to travel with greater peace of mind".
Of the total number of certificates issues, 193,381 have been downloaded online and 6,936 in person at health centres and private laboratories. Of the total, 192,487 have been vaccatination certificates, 460 for diagnostic tests for COVID-19 (PCR or antigen within the timeframe established for each one) and 7,370 certificates proving recovery from COVID-19.
---