Match Preview: CF UE Tavernes v CD Jávea
CD Jávea travels to Tavernes with three key casualties.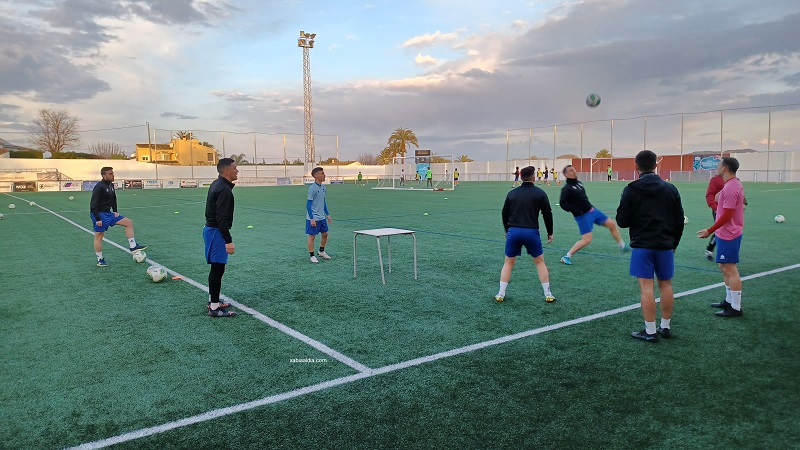 ---
Friday 1st April 2022 – Mike Smith with Xàbia AL DÍA
---
CF UE Tavernes v
CD Jávea
Campo Municipal de Tavernes Valldigna
Referee: Emilio Espigares Jimenez
CD Jávea travels just up the A-7 motorway this Saturday to Tavernes de la Valldigna to face the CF UE tavernes in what is expected to be a difficult match on Round 25 of the Preferente Group IV, the hosts having won at second-placed Ontinyent 1931 CF last weekend, a victory that moves them back towards the promotion play-off spots.
However, the Jávea sides will be travelling with three casualties from the tough home draw against CF La Nucia 'B' last Sunday. Juli was injured right at the end of the match and looks doubtful for featuring in Tavernes whilst Roberto suffered a sprain and it remains to remains to be seen if he will be available. In addition, Corbolan received a fifth caution during the match and will therefore be forced to sit out the game through suspension.
Xàbia AL DÍA spoke with head coach Lauro Techeira this week as they prepared for the match:
What impression did the team give you with the draw against La Nucía?
I am very happy. The truth is that it was a very serious match with a very organized team against a very difficult opponent who arrived on the back of six straight wins, Jávea stood up and did a very good collective job.
That point cost the team dearly due to injuries to Juli and Rober.
We currently have a very small squad and Juli and Rober's injuries, in addition to Corbalán's fifth card, we are short for this Saturday. But we all saw the collective work against a good team and this is the line to follow and there are players who have the opportunity to play and show that they want to be part of the starting team.
Tavernes had lost a bit of form but in recent weeks it has become strong with victories away from home with victories in Denia and Ontinyent.
Every year [they] is at the top and enjoying [the fight for] promotion. They come from winning comfortably in Denia and Ontinyent and we know that their pitch is very difficult and we'll be playing against a very strong squad, with good physique and size, but we trust with our work and we will see if we can continue our run of seven games without losing.
You fully trust the current squad even if you have to call up players from the youth team?
Of course I have confidence in the squad, this is football, it is a collective sport and it is above any individuality, if we work like on Sunday, ordered, coordinated, it is clear that you do not have the same potential as other teams but on the pitch we are eleven against eleven.
The danger of Tavernes is at the front with Jorge Seral and Joan Talens, men with a strong wingspan.
Not only the two of them, they have very good players, they are tall and their field is very difficult to win, after three years they have lost in their field but we know where we are going and who we are facing, with our weapons we will try to compete.
Regional Preferente Grupo 4 – Jornada 25
Saturday 2nd April 2022
17:00 – CF UE Tavernes v CD Jávea
17:00 – CD Contestano v CF UD Calpe
17:00 – CE La Font d'En Carròs v FC Atletico Benidorm
18:00 – CF La Nucia 'B' v CF Gandia
Sunday 3rd April 2022
11:45 -SD Sueca v Racing CF Benidorm
12:00 – Racing d'Algemesi v Muro CF
17:00 – L'Olleria CF v CE Pedreguer
17:00 – CD Dénia v Ontinyent 1931 CF
Current League Table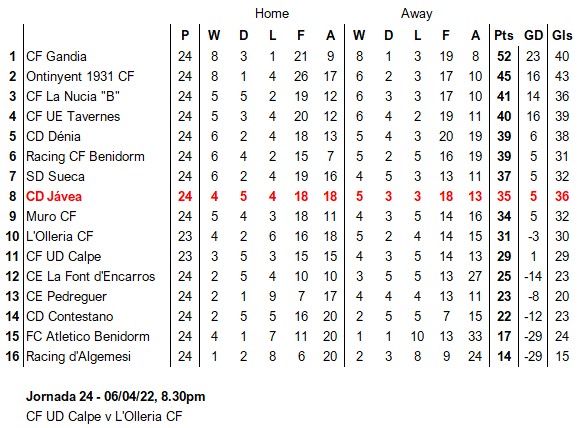 Related Link
---

---

---