Marina Salud issues infographic on how to interpret results of antigen tests that can be bought from chemists
The tests can be performed at home if you display symptoms of COVID-19 or have been in contact with a person who has tested positive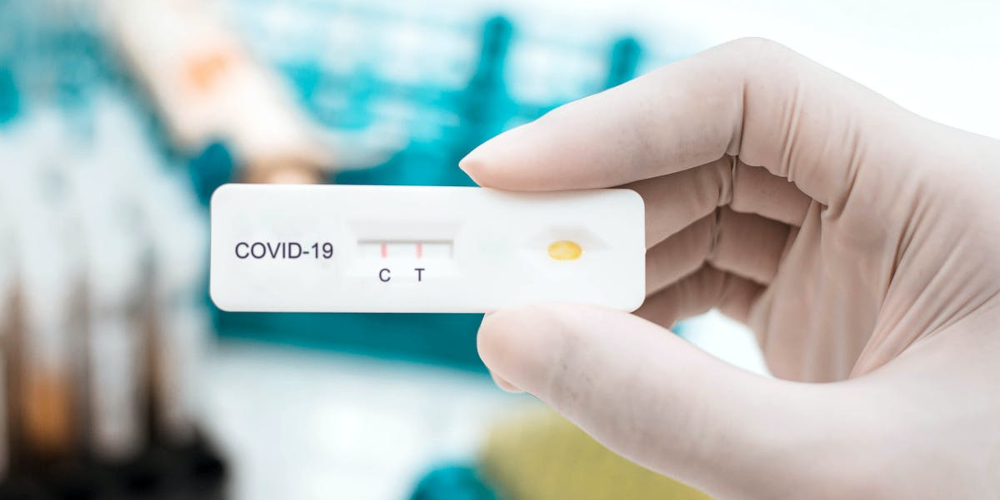 Thursday 19th August 2021 – XÀBIA AL DÍA and MIKE SMITH
---
Dénia Health Department has published an infographic to help the public interpret the results of antigen tests and understand the steps to be followed based on the result as well as the procedure to be used if the test returns a positive result.
Firstly, it is recommended that the antigen test should be used when the person displays symptoms of COVID-19 infection or that person has been in contact with someone who has tested positive for the disease. The infographic provides the instructions on how to take the test correctly whilst the newspaper El Pais recently published the following video on their YouTube channel (see below).
If the person is faced with a positive result, they must contact the health centre in their municipality and remain isolated at home. If the test returns a negative result but the person has COVID-19 symptoms, they should also contact the health centre. And those who receive a negative test without showing any symptoms but has been in contact with some who has tested positive should wait for the Health Department to call them or contact the department through the channels given in the infographic.
The graphic has been sent to all pharmacies in the Marina Alta region and has been published on the health department's website here as well as its social networks.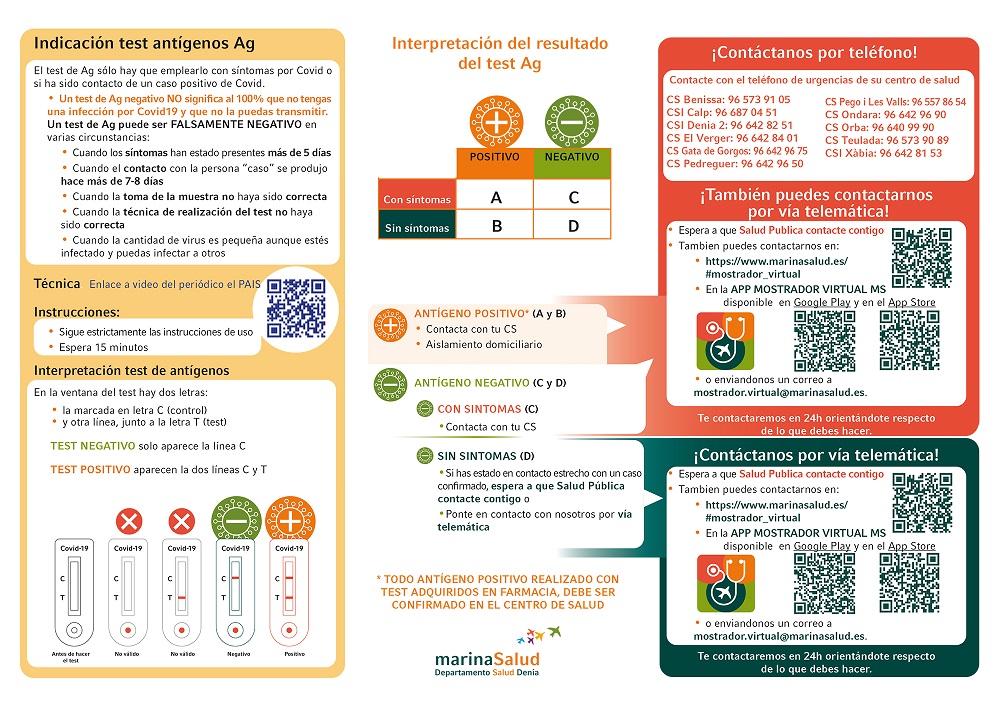 Infographic Translation
Ag Antigen Test Indication
The Ag test should only be used if you display symptoms of COVID-19 or if you have been in contact with someone who has tested positive for COVID-19.
A negative Ag test doesn't 100% mean that you don't have COVID-19 and can't transmit it. An Ag test can produce a FALSE NEGATIVE in several circumstances:
When symptoms have been present for more than 5 days.
When contact with some who tested positive was more than 7-8 days ago.
When the sample has not been taken correctly.
When the test technique has not been correct.
When the virus load is very small, even through you are infected and can infect others.
Technique
Interpreting the Test
There are two letters in the test window:
Letter C is Control
Letter T is Test
For a NEGATIVE TEST, a red line appears next to C only.
For a POSITIVE TEST, two red lines appear next to both C and T.
Any other result is VOID.
Actions After Test
If a POSITIVE result is returned, regardless of whether you show symptoms or not, you must contact your health centre and isolate yourself at home. All Ag tests acquired from a chemist that return a positive result have to be confirmed by the health centre. For Xàbia, the telephone number is 96 642 81 53.
If a NEGATIVE result is returned but you show symptoms of COVID-19 infection, you must contact your health centre for further information.
If a NEGATIVE result is returned, but you have been in contact with someone who has tested positive, you should wait for the health department to contact you or contact them yourself directly via this link, the APP MOSTRADOR VIRTUAL MS which is available for download from Google Play and APP Store, or via email on mostrador.virtual@marinasalud.es. You will be contacted within 24 hours with advice on what to do next.
---