Lifeguards rescue two kayakers who took shelter from rough seas in small sea cave
The two Spanish men were caught out by a change in sea state during the afternoon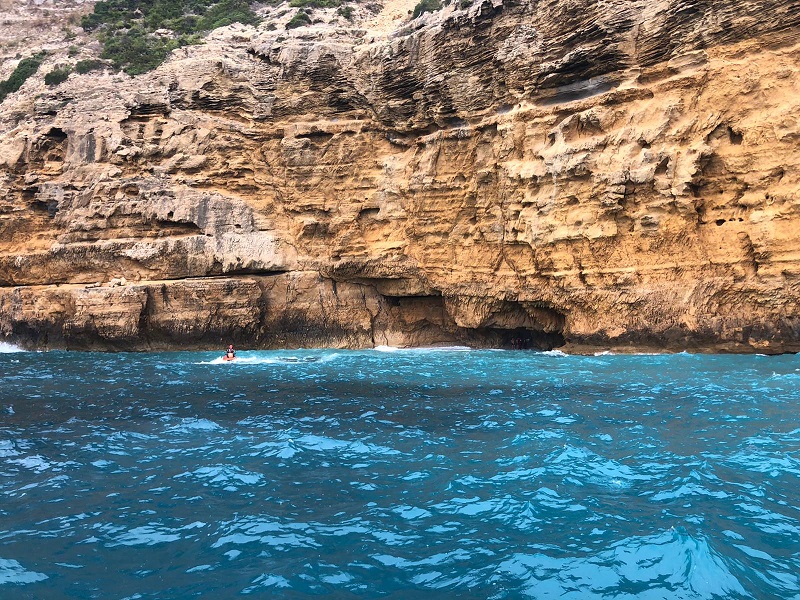 Tuesday 17th August 2021 – XÀBIA AL DÍA with Mike Smith
---
Lifeguards from the Cruz Roja de Xàbia carried out a complex search and rescue operation on Monday afternoon to locate and evacuate two men who had been surprised by the rough seas during a kayak trip along the coast.
According to municipal sources, the alarm was sounded at 6.45pm by the occupants of a jet ski who had seen two people in kayaks with serious problems in the Cap Negre zone. A rescue launch was deployed to search the area from Cap Negre to the Cova dels Orgüens where the lifeguards found the two men in a small sea cave inside which they had taken refuge.
The sea conditions made the approach to the rocky area very difficult for the launch so a boat from the lifeguard service was also deployed and two lifeguards swam to the cave to accompany the trapped men to the rescue boats. The two kayakers, both Spanish and aged 37 and 40, were then taken to the Arenal beach from where they had started their trip.
In response to this difficult rescue, the Cruz Roja de Xàbia has issued a statement to remind people of the importance of consulting the wind and sea forecasts before leaving on such excursions, especially if they are long distance. Yesterday was an example of how such conditions can change, since the day began with a calm sea along the coast but by 6.00pm the sea had become rougher along the entire coast which resulted in yellow warning flags being raised on several beaches.
---

---