José Luis Boronat: "Vueling gave me 50 euros for breaking board worth more than 3,000 euros"
The extensive damage means that Boronat has to borrow a board to compete in the national cup in Càdiz this weekend.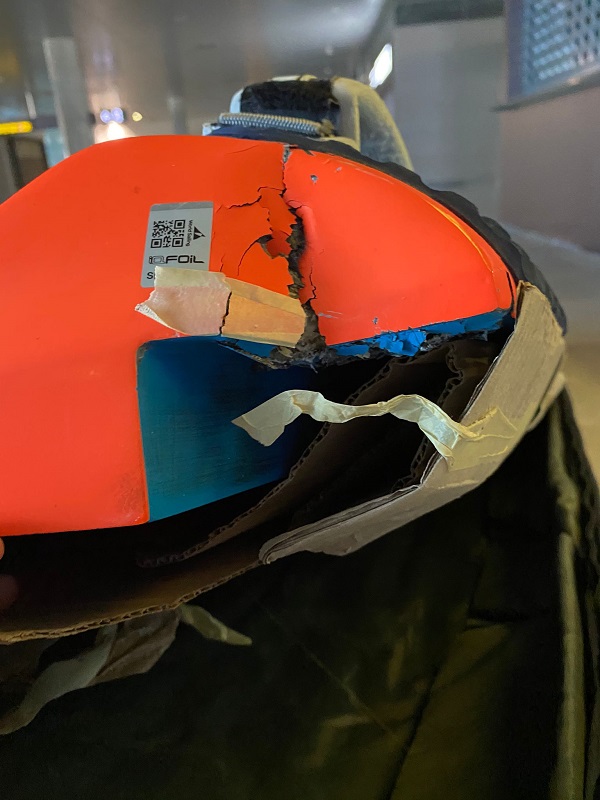 Tuesday 18th May 2021 – PRESS RELEASE with Mike Smith
---
Xàbia-based foil windsurfer José Luis Boronat has expressed his dissatisfaction with airline Vueling who caused more than 3,000 euros worth of damage to his foil board on a return journey from Lanzarote to Valencia.
Boronat had participated in the Lanzarote Foil Challenge and was returning home when he found extensive damage to his board as he picked it up from the baggage collection area.
But then the real ordeal began. Endless phone calls and complaints to the airline company finally produced a response. "They told me that they would give me 50 euros as compensation for the damages."
However, this amount doesn't cover the cost of the damages, especially as their severity has forced Boronat to purchase a new board at a cost of more than 3,000 euros. "After almost a year with competing, I was able to head to Lanzarote, compete and enjoy the competition but it is very sad that I now feel very low in spirit because of the neglect of a company".
The young windsurfer will be participating in the Spanish Windsurf Cup in Càdiz this weekend using a borrowed foil board since his replacement has not arrived on time, a situation that has its consequences. "A board is adapted and prepared to our characteristics," he said, but stressed that he is eager to show that he can still compete at the same level as the rest of the competitors in this event.
---
Information Source

---