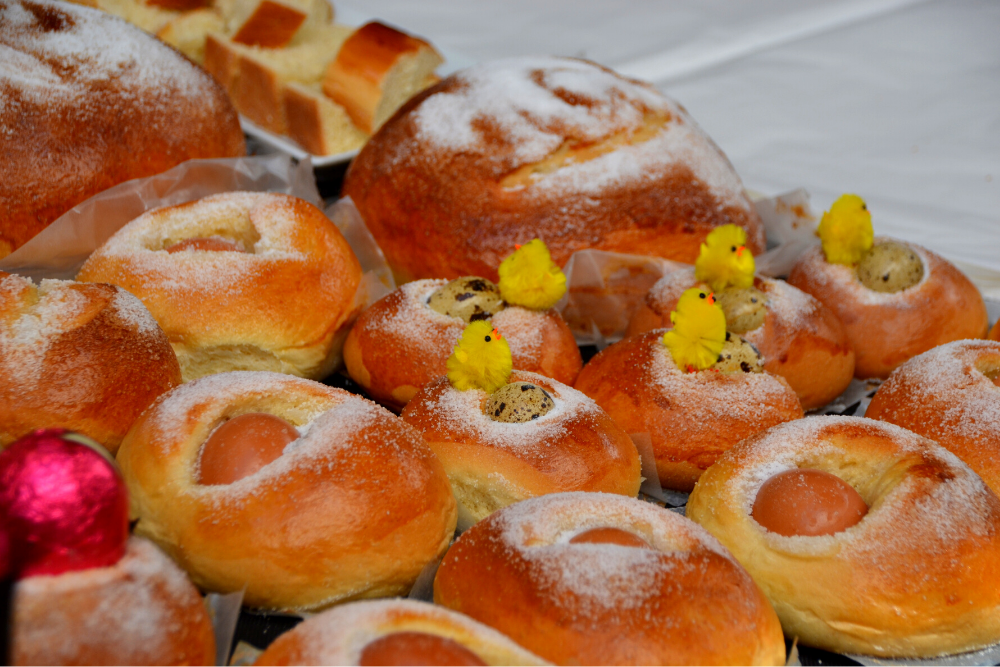 Chef Quique García of CASA GRAU provides another of a series of simple recipes for you to try at home and this one is a special traditional cake for Easter – the Mona de Pascua.
Ingredients
(for 2 cakes)
Pre-Fermentation
100g of Strong Bread Flour (Harina de Fuerza)
60ml of water
12g of Fresh Baker's Yeast (Levadura Fresca de Panadería)
The Mona
400g of Strong Bread Flour (Harina de Fuerza)
12g of Fresh Baker's Yeast (Levadura Fresca de Panadería)
6 eggs
200g of sugar
80g of Olive Oil
1 Orange Zest
15ml of Orange Blossom Water
Salt
---
Preparation
1. The preparation of the Mona de Pascua begins with the pre-fermentation which should be prepared the night before by dissolving the fresh baker's yeast in the water and adding the strong bread flour, mixing all the ingredients together without kneading. Cover with plastic wrap and place in the fridge overnight. The next morning, take it out and let stand.
2. In a deep and wide bowl, mix together three of the eggs, the oil and the orange blossom water. Add the pre-fermentation mix, the orange zest, the crumbled yeast and 150 grams of the sugar and stir. Then gradually add the flour and continue stirring; halfway through the process, add a pinch of salt.
3. Once all the flour has been added, knead the mix on the kitchen counter which has been sprinkled with flour until the dough becomes elastic. More flour can be added if the dough becomes too sticky but it is best to knead for a few minutes and wait for the texture to change. If we go over, the mix will become hard.
4. Once the consistency is achieved, form the dough into a ball and let it rest in a deep bowl lightly floured and covered with a cloth or plastic. Allow it to rise in a warm place until it doubles its volume. Once this happens, divide the dough into two and roll into balls. Make a hole in the centre of each ball and place an egg (pre-washed) in the middle, cover again and leave them to double their volume.
5. Beat the remaining eggs and brush over each of the balls. Mix 50 grams of the sugar with a few drops of water and, for an extra touch of flavour, with orange blossom water then spread the sugar over each of the balls.
6. Place in the lower part of the oven, pre-heated to 180°c, and bake for 25-30 minutes.
---
RELATED LINK: Restaurant Directory – Casa Grau
---