Environmental campaign group returns to Xàbia to inspect the state of the coastline
Volunteers observed the consequences of overcrowding and suffered verbal attacks from some boat owners.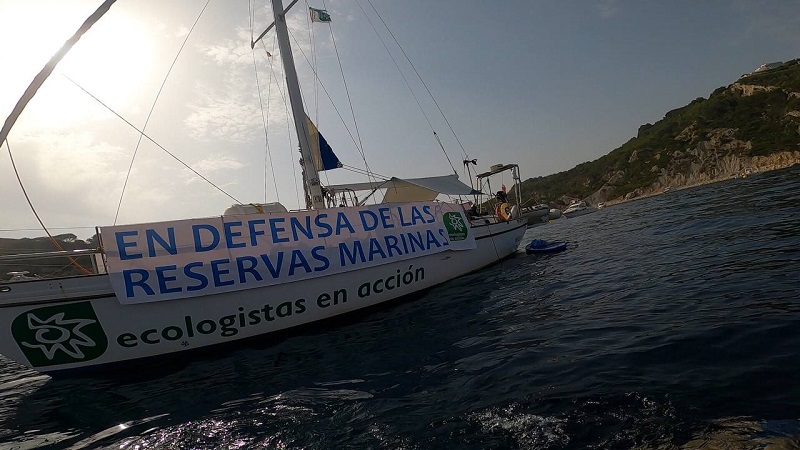 Wednesday 1st September 2021 – XÀBIA AL DÍA with Mike Smith
---
The yacht Diosa Maat from Ecologistas en Acción returned to the Marina Alta over the weekend on August 14th and 15th to inspect the state of the coastline in the region and specifically Cala Sardinera and the Cap de Sant Antoni Marine Reserve.
The environmental group explained that the arrival of the boat was coordinated with volunteers on paddle surfboards who carried out some cleaning tasks of the seabed and carried out a study of the impact of pleasure craft anchoring directly onto the underwater oceanic posidonia meadows. They also worked on raising awareness among boat users of the need to protect the seabed, especially in places such as the coves of Xàbia and El Portet in Moraira.
They explained that the volunteers were able to observe and document several infractions and situations derived from overcrowding, including fights to claim mooring buoys, destruction of the seabed by boats anchoring above the posidonia meadows, jet skis entering places of restricted navigation, and the discovery of detritus, such as abandoned chains and anchors, pieces of plastic, etc. Sadly, the volunteers suffered verbal attacks from some boat users.
In addition, the yacht joined that of MedNight to jointly inspect and study the Cabo de Sant Antoni Marine Reserve where they discovered that a vessel had anchored in the middle of the protected zone and, on seeing their presence, hauled up their anchor and left the area.
---
Related Links
---

---