Enrique Escrivá proposes that Xàbia's dog beach could be on the Primer Montañar
The spokesperson for Ciudadanos Xàbia proposes that this special area for dog's could be located next to the windsurfing school.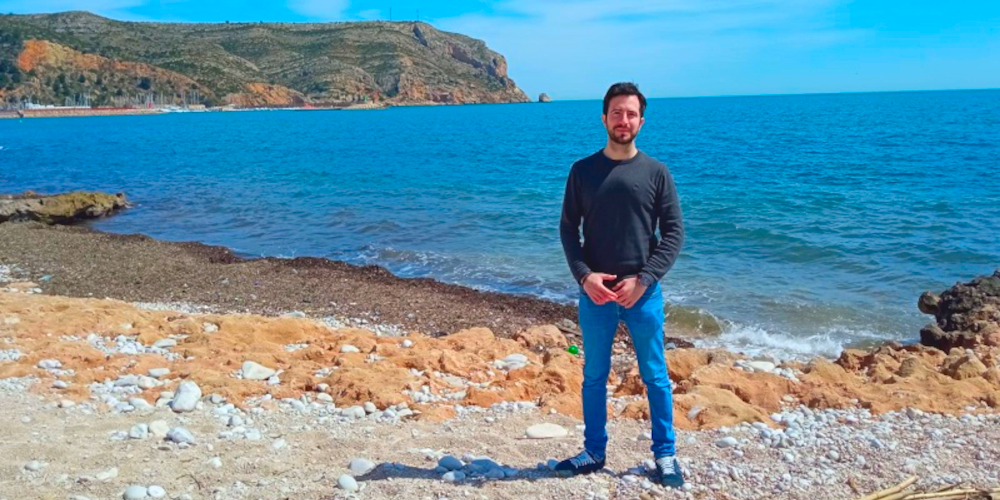 ---
Friday 6th May 2022 – Mike Smith
Source: original article – Xàbia AL DÍA
---
The spokesperson for Ciudadanos Xàbia, Enrique Escrivà, has proposed that a dedicate beach area for dogs could be created on the Primer Montañar de Xàbia, the coastal strip between the port zone and the Arenal, close to where the seasonal windsurfing school is located and consequently where both free bathing is not allowed due to safety concerns and parking is limited for vehicles. Escrivà explained that there is a small accessible area to allow easy access in and out of the sea for pets.
A space next to the sea dedicated for the exercising of dogs has been demanded by dog owner and animal associations for some years and three years ago RAMA opened an online petition on the change.org platform which collected just over 1,600 signatures to demand that the local council create an accessible area for dogs and their owners complete with all the necessary services.
The local government has never been able to respond to this request and indeed last month the councillor responsible for Services, Kika Mata, explained that she didn't see any possibility of created a dedicated space for dogs along some 25 kilometres of coastline which is not like that of other places in the Costa Blanca. Councillor Toni Miragall (Beaches) confirmed that it would be very complicated to mark off an area for pets.
Yet Escrivà pointed out that, in June 2021, the local government claimed that there was no chance of banning smoking in its beaches with councillor Mata claiming that sometimes prohibiting something has the opposite. Less than eleven months later, the local government announced that "smoke-free beaches" would be implemented in Xàbia to protect beach users from the harmful effects of tobacco and reduce the waste that smoking generates.
Finally, Escrivà has also passed on complaints from some residents of Calle Santísimo Cristo del Mar in the Duanes neighbourhood about the lack of trees along the road, where the tree pits remain empty, whilst trees have been planted in other areas nearby, such as Plaza Adolfo Suárez.
Related Links
A dedicated beach for dogs is "not possible" in Xàbia – javeamigos.com
Xàbia Council votes to ban smoking on all its beaches – javeamigos.com
Xàbia will not have a smoke-free beach for now – javeamigos.com
83% of respondents want to see smoking banned on Xàbia's beaches – javeamigos.com
---
---

---