Edu Samblás, Marcos Bisquert, Josep Ivars and Javi Bas continue for another season with CD Jávea
The senior squad continues to build for the 2021/2022 season which starts on the weekend on 4th/5th September.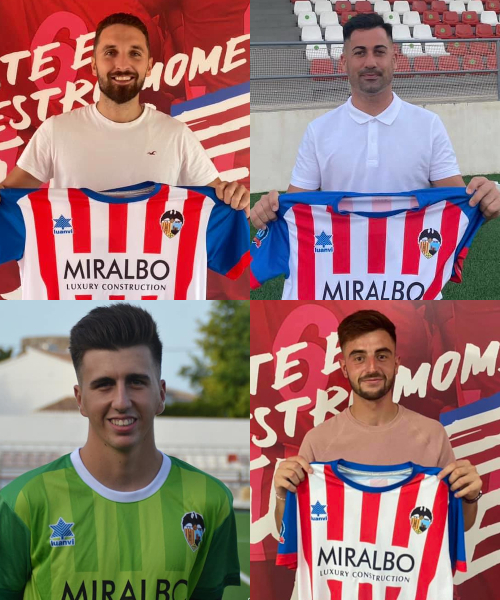 Thursday 5th August 2021 – CARLOS LÓPEZ and MIKE SMITH
---
CD Jávea continues to prepare for next season and, on Wednesday, it announced on his social media that four players have signed on to continue another season: goalkeeper Edu Samblás, defender Marcos Bisquert, midfielder Javi Bas and goalkeeper Josep Ivars.
Edu Samblás, Marcos Bisquert and Javi Bas have been part of the team for several years now, whilst young goalkeeper Josep Ivars, who has been playing with the CD Jávea 'B' side, was called up to defend the rojiblanco goal during the last few matches of last season after an injury to Samblas. Ivars took his chance, gave some great performances between the sticks, and has been rewarded with a contract with the first team.
Alongside these contract extensions, the club has also announced the arrival of six new players, including the return of striker Rubén Ortolá, who spent last season at CF UD Calpe for whom he made 16 appearances, eight of them as substitute, but failed to hit the back of the net. Ortolá returns to his home club where he has scored 16 goals in 139 appearances.
The other new arrivals are striker Carlos Quintana from Rayo Lliria CF, midfielder Francisco Javier Corbolán from UE Tavernes, striker Natalio "Tali" Mas from UE L'Alcudia, midfielder Fran José Muñoz from Villajoyosa CF, midfielder Enrique Sirerol from Pego CF, and defender Elian who rises up from the junior ranks to join the senior squad.
---
PLAYER STATS
Edu Samblas (2016/2017; 2018-present)
Goalkeeper
CD Jávea: 108+1 appearances
Former Clubs: Atzeneta UE, UD Portuarios, Muro CF, Pego CF, CF Gandía
Marcos Bisquert (2012-present)
Defender
CD Jávea: 113+58 appearances / 2 goals
Former Clubs: none
Javi Bas (2017-present)
Midfielder
CD Jávea: 1+6 appearances
Former Clubs: none
Josep Ivars (2019-present)
Goalkeeper
CD Jávea: 5+1 appearances
Former Clubs: none
Carlos Quintana (2021)
Striker
Former Club: Rayo Llíria CF – 8+12 appearances, 5 goals
Career Record: 113+61 appearances, 65 goals
Fco Javier Corbolán (2021)
Midfielder
Former Club: UD Tavernes – 27+0 appearances, 1 goal
Career Record: 117+39 appearances, 8 goals
Natalio Mas "Tali" (2021)
Striker
Former Club: UE L'Alcudia – 31+6 appearances, 18 goals
Career Record: 127+26 appearances, 60 goals
Fran José Muñoz (2021)
Midfielder
Former Club: Villajoyosa CF – 41+10 appearances, 1 goal
Career Record: 251+36 appearances, 18 goals
Rubén Ortolá (2021)
Striker
Former Club: CF UE Calpe – 8+8 appearances, 0 goal
Career Record: 80+59 appearances, 16 goals
Enrique Sirerol (2021)
Midfielder
Former Club: Pego CF – 18+8 appearances, 5 goals
Career Record: 59+13 appearances, 13 goals
---

---
Related Link
---