Ecovidro launches campaign to promote glass recycling over Christmas
Xàbia residents recycled 1,555 tons of glass during 2019.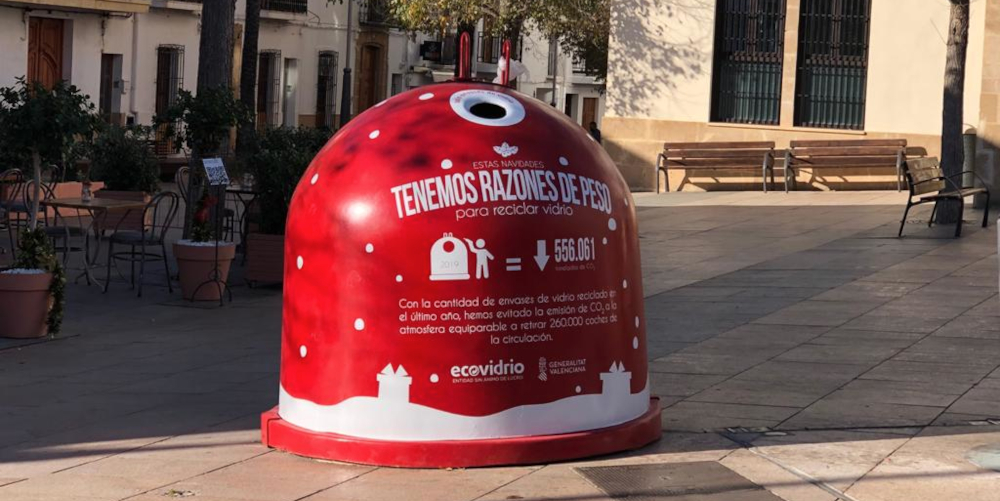 Wednesday 23rd December 2020 | MIKE SMITH
Ecovidrio, the non-profit organisation responsible for management the recycling of glass container waste in Spain, has got together with Xàbia Council to launch a new awarness campaign – "Tenemos Razones de Peso" – which aims to encourage the recycling of glass throughout the festive period.
The initiative, which runs from December 2rd until January 6th, invites all residents and visitors in Xàbia to recycle their glass waste during a period in which there is a significant increase in waste generation and in which 20% of glass that is recycled over the year is collected.
A collection bin will be located in the Plaza de la Constitución, and it will be decorated with the campaign design which reflects how everyone can contribute to preserving the environment by recycling their glass. Four more containers will be placed throughout the municipality with different messages: one in Plaza Marina Alta (post office), one at the Skatepark in Portal de Clot, one in Plaza Adolfo Suarez in the port, and one in Avenida Lepanto in the port.
On some days, information guides will be located around the containers to inform passers-by of the environmental benefits of recycling glass and to hand out bookmarks with the campaign image and messages on sustainability. They will be in location on Saturday 26th December between 4.00pm and 8.00pm and on Tuesday 29th December from 10.00am to 2.00pm.
The environmental benefits of recycling glass
The glass that is deposited in the containers is 100% recycled and is used in the production of new glass containers indefinitely, without losing its original properties. By recycling glass, we can avoid the growth of landfills.
Recycling is also a key element in the fight against climate change. By using recycled glass in the production of new containers, the extraction of raw materials is avoided, preventing soil erosion and deforestation of our environment. In addition, CO2 emissions in the manufacturing production is minimized and energy saved.
Glass recycling in Xàbia
According to the latest data available, residents of Xàbia recycled a total of 1,555 tons of glass during 2019. an average of 56.3 kilograms per person. The town has one container specifically for collecting glass for every 114 registered residents.
---