CRUZ ROJA PERSONNEL DEAL WITH TWO COASTAL EMERGENCIES
Casualties were a 16-year-old injured jumping from a cliff and a 73-year-old woman who lost consciousness whilst swimming.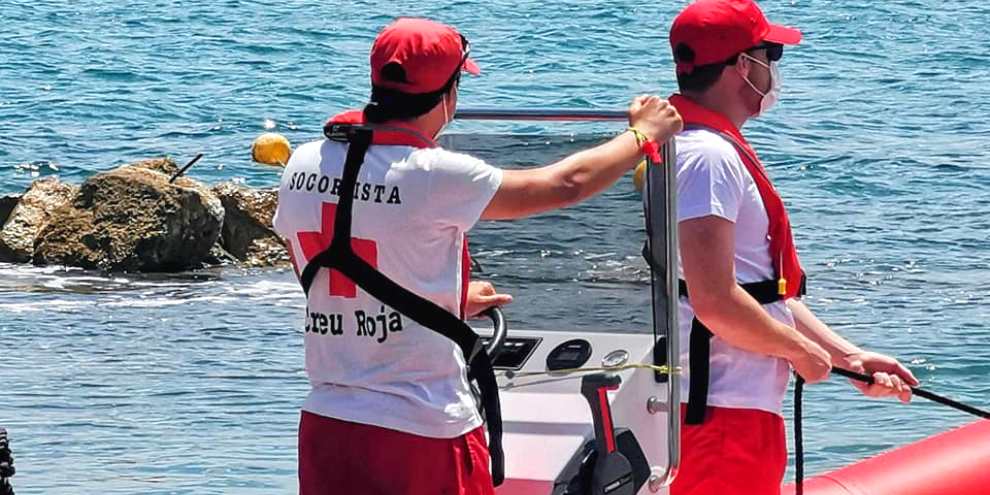 The Cruz Roja Jávea were called out to two emergencies along the coast on Thursday. The first highlighted the danger of jumping from cliffs into the water when a teenager suffered back injuries and had to be evacuated by sea and then taken to hospital. The second involved a senior citizen who almost lost consciousness whilst swimming in the sea and had to be pulled out of the water and then attended by medical personnel before also being taken to hospital.
In the first incident, which occurred at around 1.30pm, the lifeguard service received a call that a 16-year-old had suffered back injuries after jumping from a height of about 10 metres from the cliffs in the Pope zone located on the headland of San Antonio and beyond the end of the harbour area. A Cruz Roja rescue boat was launched with a skipper and three lifeguards to assist the casualty who was immobilised and evacuated by sea (since there is no land access to the location) to the port where an ambulance was waiting for transfer to hospital.
At around 2.30pm, whilst Cruz Roja health personnel were attending the emergency in the port area, they received a call of another series incident in the Portitxol cove. A 73-year-old women had begun to have problems whilst bathing and had fallen into a semi-consciousness state. She was found face down when duty lifeguards pulled her form the water, still with some consciousness, but once on the shore, she fainted and her pulse rate was lost. Two off-duty doctors who were at the cove joined the Cruz Roja personnel in resuscitation procedures and they were later joined by the on-duty doctor and nurse team from the Health Centre who had been quickly transferred to the scene by a car from the Policía Local. A patrol from the Guardia Civil was also deployed. The woman responded to the efforts of the medical personnel, her condition apparently caused by a combination of different medications treating previous health problems. Her condition stabilized by still in a serious condition, she was transferred by ambulance to hospital.