COVID Certificate requirement comes into force midnight Friday
All venues where certificates are required to be shown at the entrance will be using a special APP to determine if certificates are authentic and valid.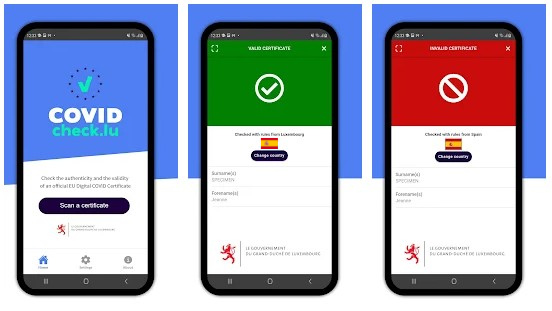 Thursday 2nd December 2021 – Compiled by MIKE SMITH
---
From midnight on Friday 3rd December, a COVID certificate will be required to enter certain establishments and venues in the Comunidad Valenciana. This measure was proposed by the regional government last week and endorsed by the Valencian Supreme Court of Justice earlier this week as one which "supposes a tenuous limitation of certain fundamental rights that, when confronted with the powerful presence of other fundamental rights, such as life or health protection, provides an objective and reasonable justification for its adoption".
And it has been confirmed that CovidCheck, an application developed in Luxembourg, will be used by these venues at their entrances to check the authenticity and validity of the certificates. A green response is returned for an authentic and valid certificate; a red response returns for a non-authentic or invalid certificate.
No personal details are stored on the application and there are substantial fines for those who present fake or forged certificates as well as venues which don't abide by the measure as required.
A certificate will be considered authentic and valid for the following reasons:
Vaccination
The accepted vaccines are BioNTech Pfizer, Moderna, AstraZeneca (Vaxzevria) and Johnson & Johnson (Janssen). Certificates will become valid from the day of the second dose of the vaccine or the day of the third "booster" dose.
Negative COVID-19 Test
A certificate for a negative PCR test will be valid for 72 hours.
A certificate for a negative antigen test will be valid for 48 hours.
Recovery from COVID-19
A recovery certificate is valid between the 11th and 180th day after the day of the result of a positive PCR test.
More than 2.9 million people in the Comunidad Valenciana have downloaded the certificate, of which more than 720,000 have been downloaded in the past seven days.
---
What is the COVID Certificate?
It is the European vaccination certificate, a safe and free document.
How can I get the COVID certificate?
Through the website of the Ministry of Health or in person at health centres by appointment.
Where should I present it?
In leisure and restaurant establishments ((banquet halls, restaurants, bars, cafes, lounge bars, party venues, nightclubs, dance halls, pubs, cyber-cafes with a licensed capacity of more than 50 people) and gambling centres with restaurants (gambling casinos, bingo halls, slot machine arcades, gambling halls, tombolas and the like, cyber halls and the like, all with a licensed capacity of more than 50 people), in events (of more than 500 people capacity) where it is not always possible to wear a mask, in visits to hospitals and social services residences.
In what formats can I present it?
The COVID certificate can be presented on paper or using a mobile phone, along with an accredited proof of identity.
When does it come into force?
At 00:00h on Saturday 4th December (midnight Friday 3rd December).
Use of the Mask
The wearing of a mask continues to be mandatory in closed spaces for public use and in outdoor spaces where the social distancing cannot be respected.
---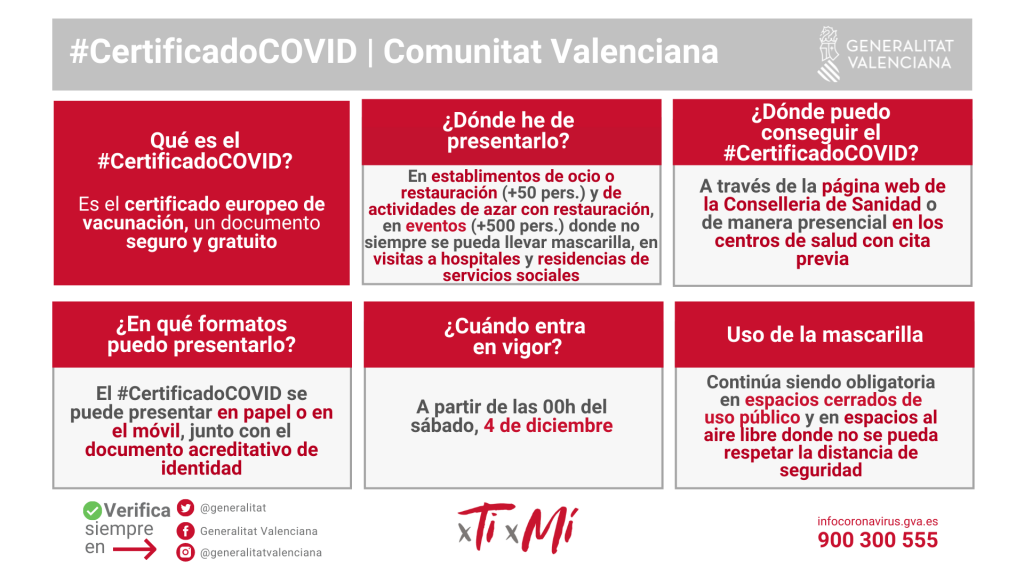 ---
---
Related Links
---