Compliance with health measures reinforced during bridge weekend
Mayor calls on the people of Xàbia to make one last effort so that we reach Christmas in the best situation we can.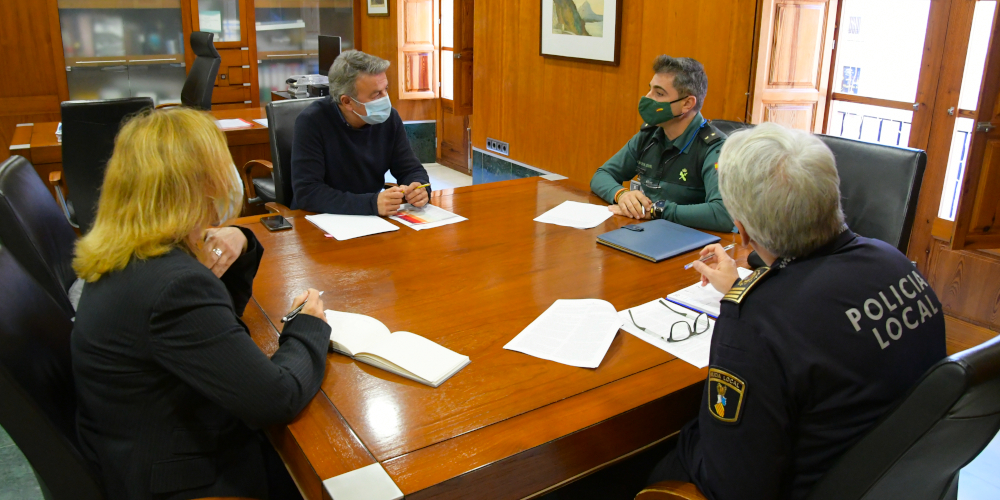 Mayor José Chulvi and councillor Pepa Gisbert (Security) met with the heads of the Policía Local and Guardia Civil to define the presence that will be activated during the forthcoming December bridge weekend in relation to the extraordinary health prevention measures that have been put in place to fight against COVID-19.
In addition to control to ensure that face masks are worn and that social distancing and capacity limits are maintained in public spaces, the security forces will also be paying special attention to compliance in bars and restaurants as well as supermarkets whilst also reacting to and dealing with private parties.
The Council has thanked the residents of Xàbia for demonstrating a sense of responsibility since the health crisis began, a collective and majority effort that should not be ruined by the irresponsible attitudes of a few.
In this sense, the mayor has asked the people of Xàbia for one last effort in the next few weeks during which it is very important to take extreme precautions and reduce contacts in order to reach the festive period in the best situation and thus be able to enjoy the holidays, still with the required measures in place but with the greatest peace of mind and without putting our families at risk.
---