Club Náutico Jávea's Optimist team crowned regional team champions
After a shaky start, the young sailors from Xàbia defeated RCN Valencia to take the crown.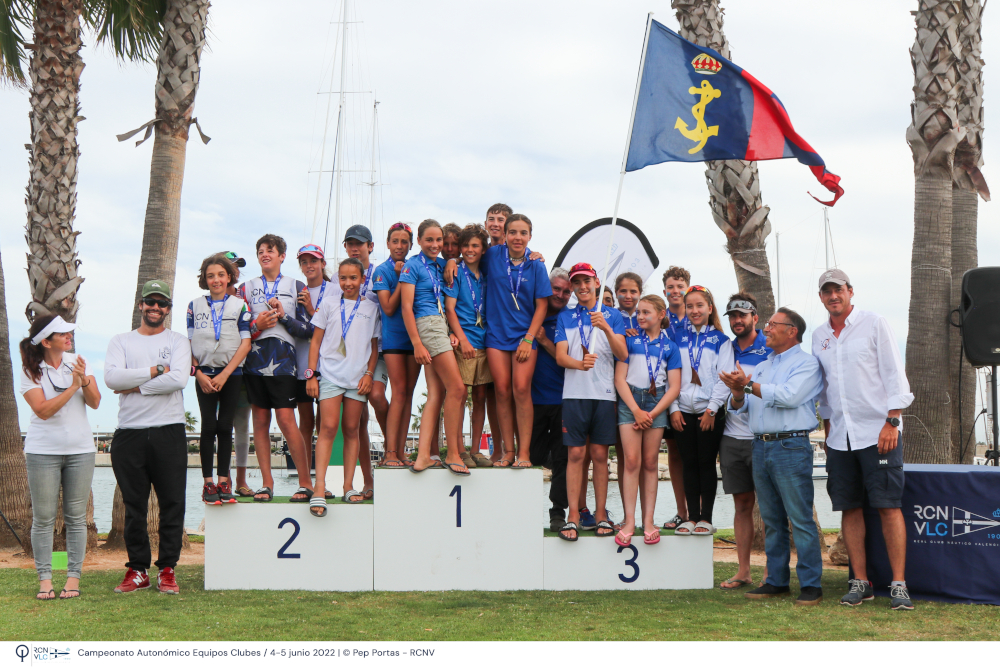 ---
Monday 6th June 2022 – Mike Smith
Source: press release – Club Náutico Jávea
---
The Optimist A team of the Club Náutico Jávea, formed by Nando Puig, Carlota Gómez, Mateo Carbonell, Raül Martínez and the sisters Elena and Begoña Pérez Manglano, have been proclaimed regional team champions.
The racing was hosted by the Real Club Náutico de Valencia. It was a very important appointment in the racing calendar and proof of this was that, throughout the week, the yacht club's optimist team was training and preparing it with great effort and dedication on the part of all the sailors. Finally all six traveled to Valencia: Nando, Carlota, Raül, Elena, Mateo and Begoña.
Two Round Robins were held on Saturday and in the first, those from Jávea only achieved a single victory. However, once they got their act together, they were able to turn the score around and won all the matches in the second heat, losing out only to Real Club Náutico de Valencia. The day concluded with the Club Náutico Jávea second behind RCN Valencia.
On Sunday, with a wind of 10-15 knots, the third heat started and the sailors from Club Náutico Jávea demonstrated their worth and their enormous potential, winning all the matches and qualifying for the semifinals. The rival was the Real Club Náutico de Torrevieja and after a 2-1 win, those from Jávea went on to the final against the Real Club Náutico de Valencia.
In the confrontation against the team from Cap i Casal, the sailors from the Club Náutico Jávea gave no respite and won with a convincing 2-0, which ultimately led to the regional team championship.
Joy overflowed the Optimist team, led by coach Fernando Puig together with the parents of the members of the fleet as well as the sports management and the board of directors, who conveyed their congratulations to all of them for a job well done.
---

---