Club Náutico Jávea and María Ferrer collect 1,450 euros during rowing day
Club Nautico de Jávea pledged the match the amount collected during this special event.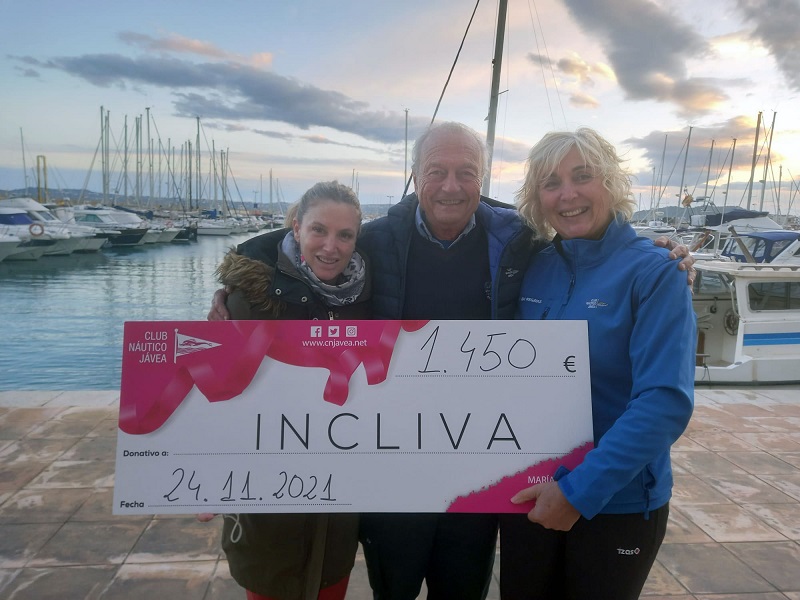 Friday 26th November 2021 – CARLOS LÓPEZ with Mike Smith
---
Club Náutico de Jávea will deliver 1,450 euros to the Health Research Institute (INCLIVA) in the next few days, money collected during the special Rema en Rosa (Rowing in Pink) event organized by the rowing section and María Ferrer.
About 100 people took part in this special rowing day, which aimed at raising awareness of the benefits of rowing recovering from breast cancer, and donated a total of 725 euros to the cause. And, as part of the club's commitment to society, the board pledge to double the amount raised through registrations on the day and thus, the total donation to INCLIVA is 1,450 euros.
On Wednesday, the Club Commodore, Alejandro Liniers, along with the coordinator of the Rowing section, Tenin García, and Maria Ferrer, collected the symbolic cheque for that amount.
Maria Ferrer expressed her thanks to the sailing club for doubling the contribution and especially to Tenin García for her support in organising the event with just a few day's notice as well as the special collaboration with the Rotary Club of Jávea, which provided a snack for all the participants. She stressed that the donation is one more grain of sand for researchers to continue their work in finding a cure for cancer.
---
---