CD Jávea triumphs in five-goal thriller
The rojiblancos take all three points in a match in which youngsters Josep and Alvaro made their debut.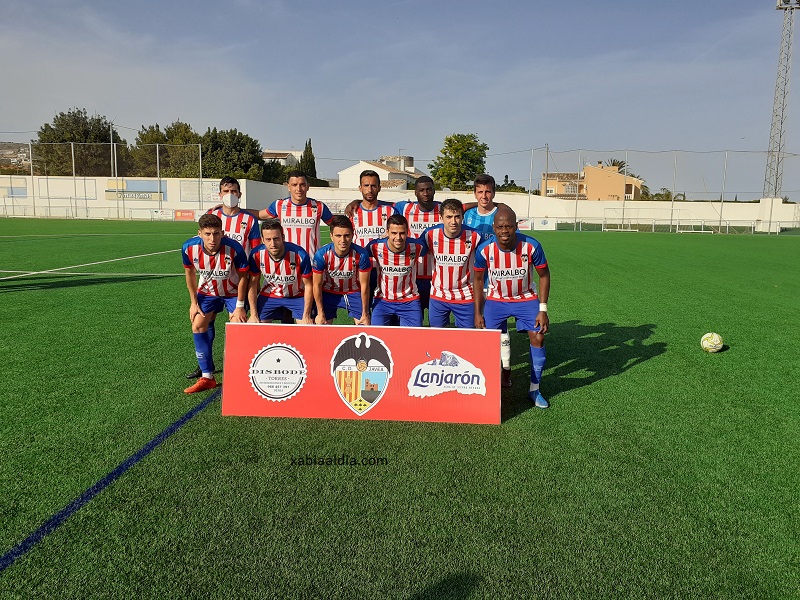 Sunday 25th May 2021 – XÀBIA AL DÍA with Mike Smith
---
CD Jávea 3-2 FC Atletico Benidorm
This was an excellent victory for Diego Miñana's men, who had to watch the game from the stands due to being suspended, César Melo was the one who directed the team from the bench. It was a game of the games that fans witnessed on Saturday evening at a time when La Liga was playing out its final round of games and an evening of radios and when Atlético de Madrid beat Valladolid, the joy went through some corners of the municipal on a day when the fans returned to the stands.
Both sides came out eager to win the game and the first minutes were a give and take of the two teams that reached the dangerous areas, the first home goal came from the left in a ball that Álvaro picked up and launched a precise pass to Palau that beat ex-Jávea goalkeeper Lussing low to his left. Benidorm pushed back and Aldo conceded a penalty that Joel converted right down the centre of the goal .
In response, Jávea continued to launched wave after wave of attack against the Benidorm goal and Álvaro's great attempt was well-stopped by the visiting goalkeeper. But the third goal of the game wasn't long coming and a precise pass from Luis Carlos found Álvaro who used perfect control to beat the keeper and put Jávea back into the lead. A third might have come soon after but Obele couldn't bring Álvaro pass under enough control to be able to take a decent shot. But then, just before half-tine, the visitors equalised, Sami watching in delight as his short went in off the post to make it 2-2 at the break.
The second-half continued in the same manner with both sides looking more than capable of scoring more goals. Benidorm was the first to come very close but reserve keeper Josep made a great save. On 51 minutes, Jávea regained the lead through Carlos who only had to push the ball into the net after the keeper parried a shot by Luis Carlos. Both sides pushed for more goals, Ferran going close to make it four for the home side with a fierce 40 yard shot which had the Benidorm keeper on good form.
Jávea held on for victory, another three points, but two defeats in the previous two games means that the rojiblancos lie seven points behind CFI Alicante and CF UE Tavernes in the top two places with four games remaining.
CD JÁVEA: Josep, Soler, Paolo, Aldo (Ayoze), Palau; Molina, Javi; Luis Carlos (Tíscar), Carlos (Fran), Álvaro, Obele.
FC ALETICO BENIDORM: Lussing, Palau (Baker), Uru, Rafa Gómez (Jonathan), Gato (Ruz), Iñaki, Joel, Pepe , Chaca (Candela), Sami, Álvaro (Josete)
GOALS: 1-0. 6m. Vicente Palau; 1-1. 12m. Joel de penalti; 2-1. 18m. Álvaro Lópe; 2-2. 42m. Sami; 3-2. 50m. Carlos.
REFEREE: Alberto Sánchez. Cautions for Javi, Aldo, Molina, Carlos, Ayoze and assistant coach Cesar Melo (CD Jávea) and Uru, Gato, Joel, Pepe and Álvaro (FC Atletico Benidorm).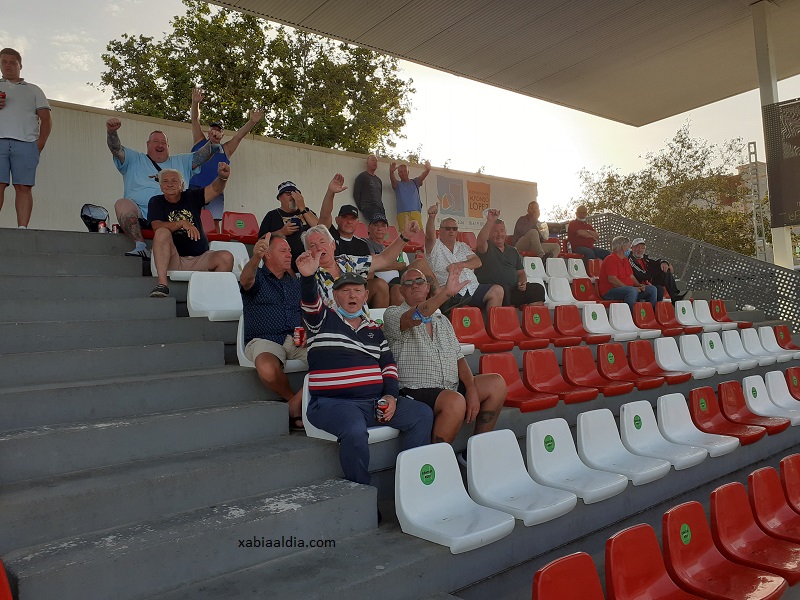 ---

---