CD Jávea stage second-half comeback against Tavernes
4-2 at the end of regulation time, with a great performance from Josep and the youthful Juli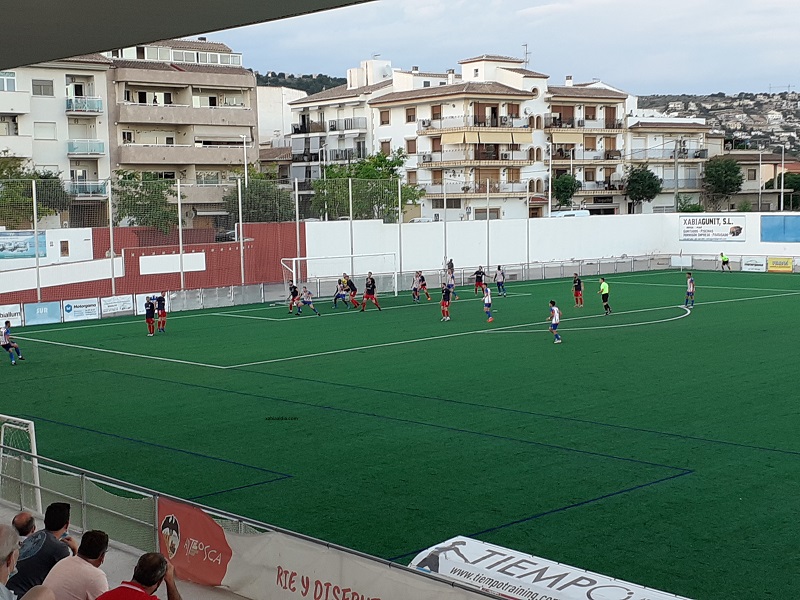 Wednesday 9th June 2021 – XÀBIA AL DÍA with Mike Smith
---
CD Jávea 4-2 CF UE Tavernes
CD Jávea played the first of three games in six games on Tuesday evening and produced a match against second-placed CF UE Tavernes that would have had the most neutral of fans calling for more.
After the outbreak of COVID-19 in the senior squad, head coach Diego Miñana had a major selection headache, with key players Aldo, Palau, Luis Carlos and Marcos unavailable due to confinement, Jorrín suspended, and a couple of other players out due to injury or fitness.
And thus, the visitors dominated the first half of the game, creating a succession of scoring chances that forced reserve keeper Josep Ivars to produce his best form of the season. Within the first few opening minutes, he was on hand to block shots from Parra and Adrián Salom but could do nothing to prevent Joan Talens opening the scoring with a powerful and accurate header from point-blank range on 15 minutes. Six minutes later, the away advantage was doubled through a penalty from Adrián Salom and it could have been more but for some further excellent blocks between the sticks from Josep. As it was, Jávea arrived at the break two goals down.
The second-half was totally different. Miñana brought on Álvaro and top scorer Guerrero and the game changes. With Javi Hernandez taking the charge in the centre of the field, Jávea was able to make serious advances on the visitor's goal and it wasn't too long before Paolo converted a cross into the box from Javi with his head to reduce the arrears. On 63 minutes, Javi himself forced the equaliser with a trademark free-kick before young player Juli, making his first start for the senior side, scored his first ever goal on 71 minutes, converting a measured cross from substitute Álvaro. Jávea applied more pressure whilst also soaking up some counter-attack pressure from the visitors.
But it would be Jávea who would claim the last goal of the game, Juanma Guerrero scoring his 11th goal of the season with seconds remaining to hand Jávea a 4-2 victory.
On Thursday, CD Jávea host relegation-threatened CD Pedreguer at the Campo d'Esports municipal.
CD JÁVEA: Josep, Ayoze (Piñero, 86m), Paolo, Paco, Fran (Álvaro, 51m), Molina, Soler (Campayo, 69m), Carlos (Guerrero, 51m), Javi, Juli y Obele.
UE TAVERNES: Jaume, Corbalán (Sol, 46m), Artur (Sean, 59m), Carrasco, Palomares, Aaron, Ferrando, Adrián Salom, Parra, Joan Talens (Palacín, 59m) y Alex Salom (Edu, 59m).
Goals: 0-1. 15m Joan Talens. 0-2. 20m Adrián Salom (penalty). 1-2. 61m Paolo. 2-2. 63m Javi. 3-2. 71m Juli.
Referee: Alejandro Martínez.
Cautions: Paco, Molina (CD Jávea) and Edu (UE Tavernes)
---

---