CD Jávea prepared to take on league leaders as promotion push continues
With no mid-week game to play, head coach Diego Miñana has been able to prepare fully for this "very important" game.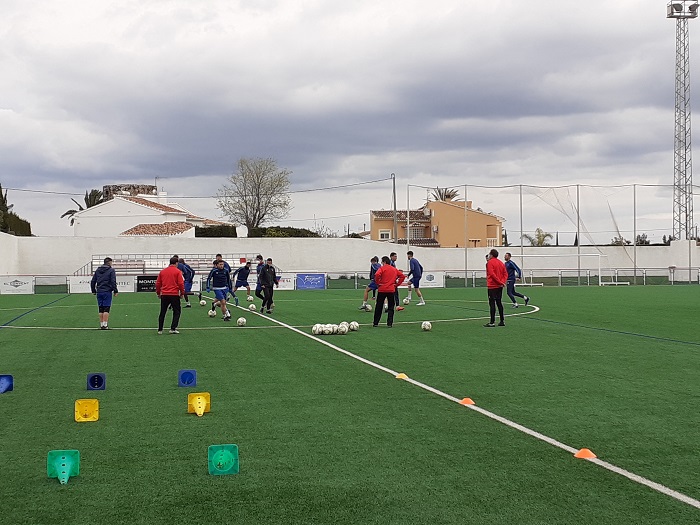 Saturday 1st May 2021 – XÀBIA AL DIA with Mike Smith
CD Jávea travel south this Sunday to the provincial capital to take on league leaders CFI Alicante at the Ciudad Deportiva Antonio Solana in a very important game for the promotion aspirations of the xabiero club.
The hosts have been top of the league for much of the season and have already defeated Jávea by a single goal last November in one of the last games to be played before the suspension of competitive sport due to COVID-19 infection spreading again through the country. CD Jávea currently sit in third spot with 32 points, six behind the hosts, but with a game in hand. So a win in Alicante and a victory next Wednesday at bottom club UD Portuarios will put the club in an interesting position for the final third of the season.
With no mid-week game to play, head coach Diego Miñana has been able to prepare fully for the game. He acknowledges that it will be a "very important" game against a very good side that has deserved to be top of the table for the majority of the season. However, he has played down the significance of the encounter, insisting that it is not a decisive match, there still will be 24 points to play for, regardless of the result, so it would be nonsense to think that the season is over if the club suffers defeat. But his team will be prepared and that if they do things right, Jávea will have their opportunities.
He will be without services of several key players though. New signing Luismi Pérez still can't play as his transfer has not yet been completed whilst Paco Gazquez will be serving a one-match suspension. Miñana also has to do without Ayoze and Fran who are injured. However, he was very pleased with the contributions of the two new signings in last weekend's victory over Pego CF – Palau and Carlos – both of whom will feature in Sunday's big game.
The squad to travel to Alicante will include, Edu, Josep, Marcos, Soler, Apolo, Toti, Aldo, Javi, Ferrán, Luis Carlos, Alvarito, Palau, Carlos, Jorrín, Obele, Guerrero, Vargas and Piñero.
---
CFI Alicante vs CD Jávea
Sunday 2nd May 2021, 6.00pm
Ciudad Deportiva Antonio Solana
Calle Barítono Paco Latorre, 6, Alicante
Referee: José Carlos Caballero Carrillo
---
---

---