CD Jávea hang on to claim victory in derby game
Jávea stormed into a three goal lead before the opposition fought themselves back into the game.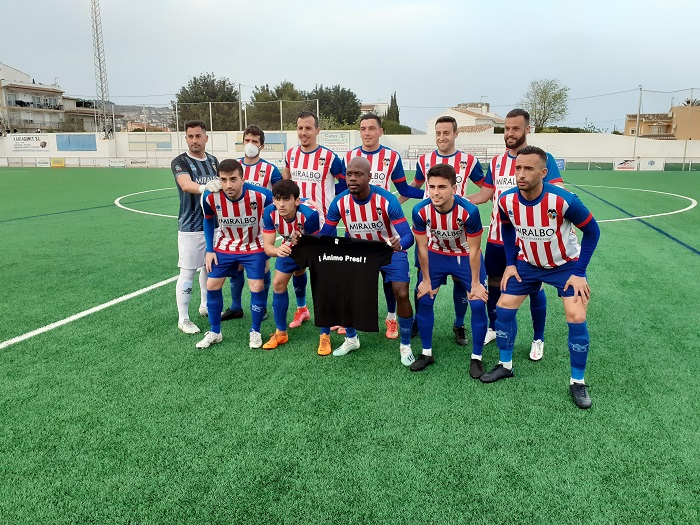 Friday 2nd April 2021 | XÀBIA AL DÍA and MIKE SMITH
CD JÁVEA 3-2 UD CALPE
It was a classic derby game at the municipal stadium in Xàbia on Thursday evening with an interesting clash between CD Jávea and UD Calpe, with the hosts hanging on to claim the three points and move into third spot in the league table.
The first half was dominated for 40 minutes by CD Jávea and it wasn't long before their first goal arrived via an amazing 50 yard free-kick from Paco, taken from the far right, a floating curling ball which eluded everyone in the packed six-yard box and bounced once beyond the keeper's reach and into the back of the net. Calpe had hardly got out first gear and they were already on the back foot.
Aware of their talent for throwing away leads, Jávea swept forward to double their advantage and Álvaro tried his luck with a speculative shot from distance which was just inches wide. And then Calpe almost forced an equaliser with a free-kick from Guido which went just wide. But it was Jávea that scored next on 38 minutes. The visitors struggled to clear a long throw into the box from Ayoze, the ball falling to Javi who managed to shin the ball back to Álvaro lurking on the edge of the box, the tricky winger firing low beyond the stretch of the keeper and into the bottom right of the goal. 2-0.
And it was 3-0 almost immediately from the restart. Calpe made a hash of their passing in midfield and some dodgy defending after some great pressure work from Obele who pounced on a loose ball inside the box, passing to Guerrero who smashed home from 10 yards to put the game, apparently, beyond doubt.
But then Calpe went down the other end and scored, taking advantage of some panic in the Jávea defence to pounce on an erratic pass, work into the box and pass for substitute Alexis to make it 3-1 at half-time.
And they took charge in the second half, bringing on ex-Javea player Michael to take control of the midfield and restricting Jávea to a couple of counter-attacks with Javi forcing a great save out of the visiting keeper. On 65 minutes Calpe scored again through Ayala and the final third of the game was played out with bags of nerves on and off the pitch. Both sides hit the crossbar, first Guido for Calpe and then Álvaro for Jávea. Calpe pushed for that equaliser and it would seem history might repeat itself as the clock clicked beyond 95 minutes. And so it was with great relief – for the home side at least – that the referee finally blew for full time.
CD Jávea: Edu, Ayoze, Aldo (Fran, 90m), Paco, Paolo, Ferrán, Javi (Soler, 67m), Álvaro, Luís Carlos (Toti, 67m), Obele (Jorrín, 90m), Guerrero.
UD Calpe: Diego, Coca (Cosmin, 55m), Leider, David García, Ayala, Jefersson, Iván (Guido, 29m), Omar, Ortolá, Roberto (Michael, 46m), Mendoza (Alexis, 35m).
Goals. 1-0, 11m. Paco; 2-0. 39m. Álvaro; 3-0. 39m. Guerrero; 3-1. 40m. Alexis; 3-2. 65m. Ayala.
Referee; Pablo de la Serna with Borja Devesa and Carlos Eduardo. A
Yellow cards for Paolo, Obele, Toti and Jorrín (CD Jávea) and Jefersson, Guido and Diego (Calpe CF).
Watch the game here on YouTube (from UD Calpe):
---
Click below to read the original article in Spanish on Xàbia AL DÍA

---