ARS NOVA sings in tribute to the victims of COVID-19
The exceptional choir will be performing in tribute of those who have become victims as well as all those fight in this pandemic.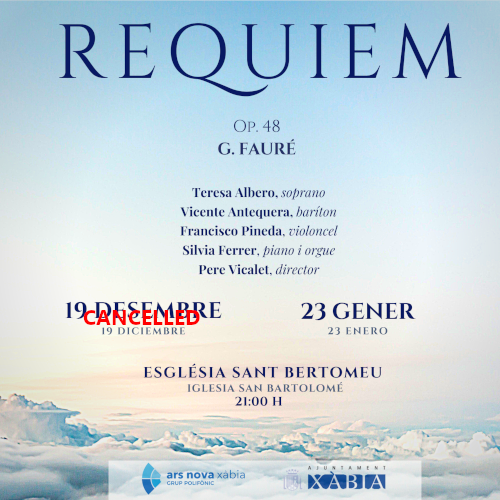 Monday 14th December 2020 | MIKE SMITH
Due to the evolution of the health crisis, the concert scheduled for Saturday 19th December has been cancelled.
On Saturday 19th December at 9.00pm inside the historic church of San Bartolomé, the ARS NOVA choral group will be performing Gabriel Fauré's Requiem Op. 48, a concert that had to be postponed in March due to the declaration of a state of alarm and the subsequent home confinement.
The performance of the famous work is of vital importance as ARS NOVA will be paying tribute to the victims of COVID-19 and to those who fight against the pandemic. It will be a concert that will be full of emotion, a work that connects us to the soul and invites us to embrace ourselves as humanity.
The concert will feature the voices of soloists Teresa Albero (soprano) and Vicente Antequera (baritone), two singers who have carved out oustanding musical careers, performing at major festival and on important stages around the world. The singers will also be supported by Francisco Pineda on the cello and Silvia Ferrer on piano, and the whole ensemble with be conducted by Pere Vicalet.
Due to the COVID-19 measures in place, capacity is limited inside the church but, thanks to the support of Xàbia Council, the concert will be performed once again on Saturday 23rd January 2021 so that as many people as possible will be able to enjoy this moving concert.
Due to health measures in place to prevent the spread of the coronavirus, it is necessary to pre-book (up to a maximum of four people) by calling 965 79 43 44 between 8.00am and 2.00pm Monday to Thursday, and between 8.00am and midday on Friday. It will be mandatory to wear a face mask during the performance as well as disinfect the hands using the hydroalcoholic gel which will provided at the entrance.
---