ARS NOVA OFFERS A JOURNEY FROM XÀBIA TO NEW YORK
The show 'De Xàbia a Nova York' will take place on Friday 30th October at 9.00pm and feature a choral interpretation of jazz melodies.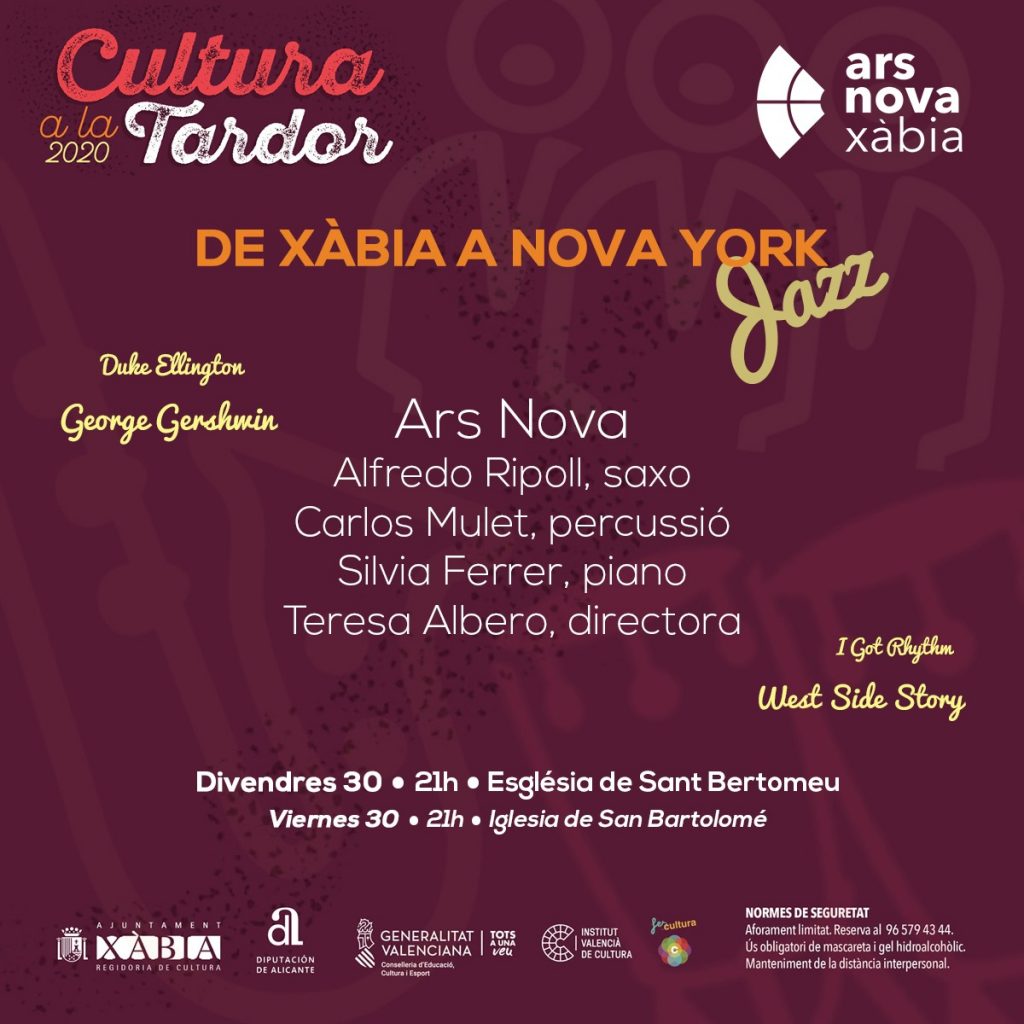 This Friday 30th October at 9.00pm, the ARS NOVA choral group is offering a unique performance inside the ancient church of San Bartolomé in the heart of the historic centre of Xàbia.
The show, entitled 'De Xàbia a Nova York' – 'From Xàbia to New York' – will offer a tour through different jazz melodies which have been adapted for choral interpretation and bring the audience closer to the musical world of composers such as Duke Ellington, Gershwin and Bernstein, amongst others, as well as works which are as important as 'West Side Story'.
ARS NOVA will be making this trip with three exceptional companions: Alfredo Ripoll on saxophone, Carlos Mulet on percussion and Silvia Ferrer on piano, all under the direction of Teresa Albero. Together they will make the concert an unforgettable and fascinating musical night.
Alfredo Ripoll is a young musician from Xàbia who stands out for his excellent qualifications both in higher education and in the master's degree in performance that he performed in 2018-19 at the Escuela Superior de Música de Catalunya (ESMUC). He has completed his training with important saxophone performers, and it is worth noting his foray into the jazz world with Lolo García.
Percussionist Carlos Mulet participated with ARS NOVA as a marimba soloist last December, standing out for his "brilliant and virulent work". Graduating from the Conservatorio Superior de Música de Alicante, he continues his career as a performer with groups such as Ars Futura Conjunto Instrumental or Connecta Percussió.
The experience of pianist Silvia Ferrer, also from Xàbia, together with the magnificent tandem she does with ARS NOVA, will be absolutely underlined by the repertoire they will perform. Silvia has invited everyone to "enjoy as much as we do with the music of current composers like Ellington or Bernstein in a magical and dynamic sound world".
In short, in this concert all the components are given to enjoy an unforgettable musical night so necessary in these times. That is why ARS NOVA invite the public to attend, under the slogan of safe culture, a concert with great musicians and a wonderful repertoire.
It should be remembered that, for safety reasons, interested parties will have to book in advance (for a maximum of 4 people) by calling 96 579 43 44, Monday to Thursday from 8.00am to 2.00pm and Friday from 8.00am to 12 midday. In addition, the use of the mask will be mandatory during the performance as well as disinfection with hydroalcoholic gel on access to the church.
---